eToro is an Israeli social trading platform and online CFD brokerage. It has offices registered in Cyprus, the United Kingdom, the United States and Australia. Our 2023 eToro review will cover everything you need to know about trading with the broker, including fees, platforms, assets and more.
What Is eToro?
Company Details
eToro has its HQ in Tel Aviv, Israel. However, it also runs offices located in London, Limassol, New Jersey and Sydney. The firm operates in 140 countries worldwide, including the UK, Australia, Saudi Arabia, India and Kenya. Residents of Zambia, Japan, Zimbabwe, Canada and several more countries do not have access to eToro. US residents can use the broker in all states except Delaware, Hawaii, Minnesota, Nevada, New York and Tennessee. The US service is also for cryptocurrency trading only.
History
Founders David Ring, Yoni Assia and Ronen Assia started eToro in 2007. The firm made a name for itself as an innovative social and copy trading platform and has experienced notable growth in the last decade. In 2020, the firm had over 20 million active users and a net worth of $2.5 billion. The broker's revenue in 2020 was $605 million.
In March 2021, the firm announced it was planning to list itself as a publicly-traded company through a reverse subsidiary merger with a special purpose acquisition company (SPAC) backed by Betsy Cohen. This had a market capitalisation of $10.3 billion. However, the initial public offering (IPO) has not yet been launched and the valuation may change after a deadline originally set for 2022. Therefore, investor relations materials including investor presentations, annual and quarterly reports are easily accessible but it is not yet possible to buy eToro stock.
Markets
eToro offers a wide array of assets, including cryptos, stocks, ETFs and CFDs. Note that there are restrictions on what you can trade depending on your country of residence. For example, crypto CFDs are not allowed in the UK and other countries do not allow crypto transactions at all.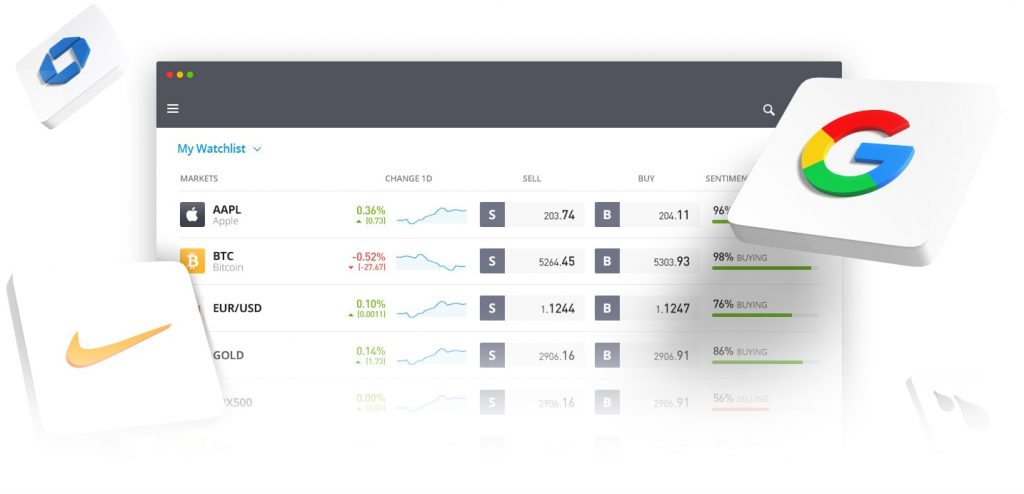 eToro does not offer options trading.
Stocks & ETFs
eToro clients can purchase stocks and ETFs with 0 commission. These instruments are offered as securities investments, so you will own the underlying asset and may be entitled to dividends. Shares and fractional shares are offered for popular stocks from 17 global stock markets, including the NASDAQ, London Stock Exchange and Frankfurt Stock Exchange.
Stocks include Gamestop (GME), Shell (RDSB.L), Rolls Royce (RR.L), International Consolidated Airlines (IAG.L) and 88 Energy (88E). However, Alpine 4 Technologies (ALPP) is not currently available. Traders also have access to 145 ETFs. These include the ARK Genomic Revolution ETF (ARKG) and the S&P 500 ETF.
Cryptos
You can also purchase cryptocurrencies through eToro, with over 30 coins on offer. Popular tokens include Bitcoin (BTC), Ethereum (ETH), Dogecoin (DOGE), Ripple (XRP), Quant (QNT), Shiba Inu (SHIBxM), Stellar (XLM), 1inch (1INCH) and Solana (SOL).
If you own Ethereum, Cardano or Tron, you can also stake them and earn passive income rewards – read the accounts section for more information. The cryptos Bitcoin, Bitcoin Cash, Ethereum, Litecoin and Stellar can be stored in eToro's client wallet, which you can use to make payments and even buy NFTs.
Advanced traders can access eToroX, a professional crypto exchange with increased security, competitive fees and wider market access. However, from 26th December 2021, Cardano (ADA) and TRON (TRX) will be delisted and will not be available for US traders.
New coins are added regularly, so if you are interested in new coins like Zilliqa, Kishu or Kadena, keep an eye out for eToro's announcements.
CFDs
eToro traders can purchase CFDs in stocks, commodities like gold, platinum and natural gas, forex, cryptos and indices such as the CAC 40 (FRA40). Purchasing a CFD means you do not own the underlying asset. You do not need to pay the full price of a stock or an asset like gold as you can invest in a fractional derivative.
Although it is most common to trade crypto CFDs against the USD, some coins can also be traded against other currencies. For example, XRP/GBP may be more convenient for UK Ripple traders. There are also several cross-crypto pairs.
Trading Platform
eToro offers only its proprietary trading platform. This is available as a webtrader, for desktop or as a mobile app. The application can also be downloaded for Android, iPhone and iPad devices.
The broker focuses on social trading and has built its platform much like a social network. It contains newsfeeds and communities of traders discussing decisions and strategies. Both desktop and mobile versions are graphics-focused and allow you to manage your portfolio easily and execute trades with one click. A unique feature is CopyTrader, which allows users to replicate the moves of top traders.
How to use CopyTrader:
Choose a trader: You can search for traders by performance, assets, risk score and other filters
Set an amount: Choose a total amount for the copy. The minimum for this feature is $200
Click "Copy": Once you have clicked the button, you will start automatically mimicking the trader's positions
This is the only automation possible with the eToro platform. APIs and other automated systems, such as those supported by MetaTrader 4 (MT4) and MetaTrader 5  (MT5), are not supported.
eToro created the Popular Investor programme to encourage the copying of talented traders. Developed on top of the CopyTrader feature, it allows successful investors to earn money by being copied. There are four levels to the Popular Investor programme, with payments starting at level 2. Anyone can join this programme, they just need equity greater than $1,000, to trade for at least two months, attract copiers and attain assets under management (AUM) above $500.
eToroX
eToroX is eToro's dedicated crypto exchange. The broker designed it for corporate, institutional-grade crypto traders, algo traders, day traders and high net worth individuals. The platform is intuitive and feature-rich, meeting the needs of veteran traders.
eToro Trading Accounts
eToro offers a tiered account structure called eToro Club. There are five tiers, not including the base (Bronze) tier, each with different equity requirements and benefits. Corporate accounts in the name of a business can be requested by creating a ticket online. The minimum initial deposit for a corporate account is $10,000.
Silver
Requires realised equity of $5,000 and gives access to market webinars, data-based smart portfolios and a dedicated customer success agent.
Gold
Equity requirement of $10,000 for Gold members and adds exclusive expert weekly market analysis updates.
Platinum
$25,000 equity requirement with added exemption from withdrawal fees, complimentary access to a top-tier digital publication and exclusive access to partner apps and platforms.
Platinum Plus
$50,000 requirement with added one-on-one Zoom meetings with an account manager, plus exclusive access to special sporting and cultural events.
Diamond
The top tier requires equity of at least $250,000 and gives access to premium digital publications, exemption of exchange fees and exclusive events.
All account types can stake crypto in the relevant PoS mechanism and receive rewards for it. eToro executes the process on your behalf and Bronze users receive a 75% reward yield, Silver, Gold and Platinum Club members receive an 85% reward and Diamond and Platinum plus users receive a 90% reward.
The eToro Money account is available to verified UK eToro Club members. Silver, Gold and Platinum Club members are eligible for the Green Plan (which includes an eToro Money Card). Platinum Plus and Diamond Club members are eligible for the Black Plan (which includes a metal eToro Money card).
It is possible to have two or more eToro accounts. You will need to register with the same name and documents as your other account but use a new email address and username. The broker does not offer a stocks and shares ISA (individual savings account) or Junior ISA.
Getting Started
We have prepared a short guide to help you get started with eToro and show you how it works:
Sign-Up – Provide your personal details and sign in
Verification – You will need to verify your identity and address by providing bank statements and your national insurance number
Knowledge Assessment – You will receive a short questionnaire on which you must mark the correct statement from a list of false statements to prove you have a good grasp of investing. You must select the correct answer to each question
Begin Trading – Upon confirmation of verification, you can log in and get started. Click "Open Trade" or 'Set Order' to make an order and execute a trade. During market hours, this is usually instant. Never invest more than you can lose
eToro Leverage
eToro has leverage limits of 1:30 for major currency pairs and 1:20 for other currencies like ZAR, major indices and gold. Rates of 1:10 are available for other commodities, 1:5 for CFDs on stocks and 1:2  for crypto CFDs. You can trade without leverage if you so wish.
Traders with professional accounts can access higher leverage rates up to 1:100 but this is subject to experience and capital.
Fees
eToro advertises commission-free stock and ETF trading, though CFDs on these assets incur a 0.09% commission. Clients can also purchase fractional shares starting at $10 with no rollover or additional broker fees.
For CFDs, the firm generates its revenue through the bid-ask spread. Spreads are floating, so they rise and fall with prevailing market conditions. The broker's spread model is round-turn, so it charges fees for both purchasing and selling a contract. Leveraged positions are also subject to margin rates.
Average advertised spreads are:
Currencies: From 1.0 pips
Commodities: From 2.0 pips
Indices: From 0.75 points
Cryptocurrencies: From 0.75
The eToro Wallet for cryptos incurs a 5% currency conversion fee. Conversion fees will also apply to fiat deposits and withdrawals made in unsupported currencies.
eToro only charges overnight fees for CFDs and leveraged positions. The broker adjusts this fee for each asset and displays it underneath the "Open Trade" button. The firm also charges a monthly inactivity fee of $10 after 12 months of inactivity.
Payments
Deposits
The eToro platform operates in USD and does not charge for USD deposits. 14 other currencies are also accepted: EUR, GBP, AUD, RMB, THB, IDR, MYR, VND, PHP, SEK, DKK, NOK, PLN & CZK. The broker does not accept the South African Rand (ZAR).
The broker supports funding via credit cards, debit cards, bank wire transfer, PayPal and e-wallets, including Neteller, Skrill, Rapid Transfer, iDEAL, Klarna and POLi. All deposits are free, though third parties may incorporate their own charges.
The minimum deposit varies with client location. Lower limits are $50 for the UK, US, Australia and most of Europe, whereas almost all other countries must deposit at least $200. This excludes Bahrain, Cayman Islands, Costa Rica, Dominican Republic, French Polynesia, Gibraltar, Iceland, Isle Of Man, Jersey Island, Kuwait, Lithuania, Oman, Qatar and Reunion Island where the minimum is $1,000. The deposit limit in Israel and for corporate accounts is $10,000.
eToro does not allow third-party payments. This means that clients must make deposits from accounts in the same name as their brokerage accounts. If you want to use a payment method belonging to your spouse or other first-degree family members, the broker can set up a joint account for you. Both parties will then be allowed to deposit and withdraw funds, though only the account owner will be permitted to trade.
Transactions into and out of the eToro crypto wallet have to be between the equivalent of $125 and $10,000.
Withdrawals
Clients must withdraw funds to the same account they made their deposits from. The broker will only process withdrawals for fully verified accounts. The minimum transaction amount is $30 and each withdrawal request incurs a $5 charge. Processing is usually instant but can take up to five working days.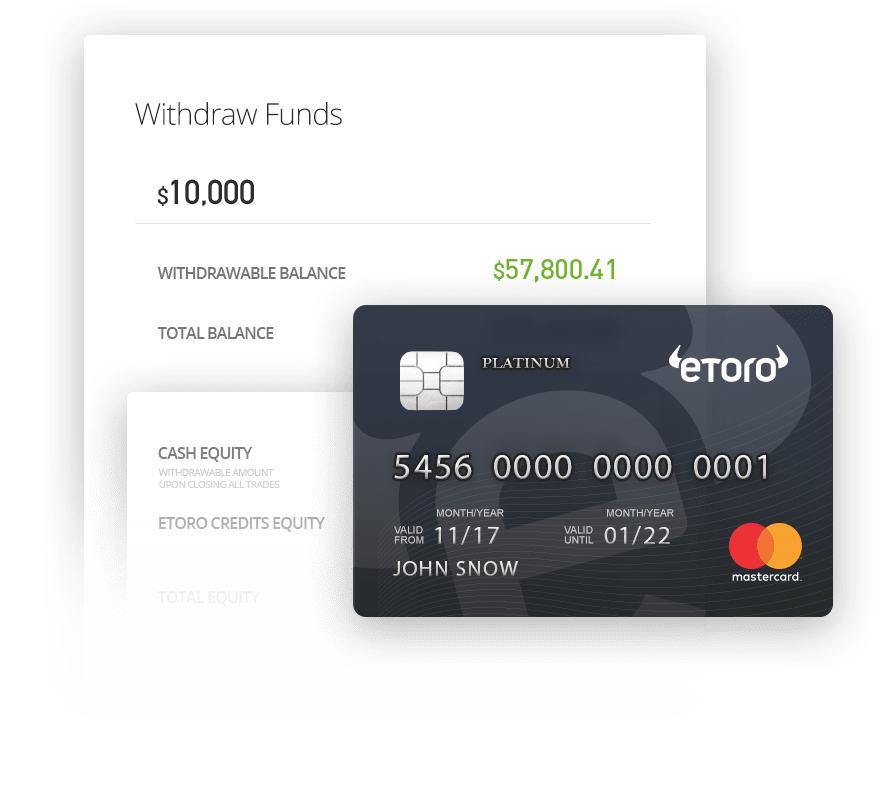 eToro Regulation
eToro is regulated by leading financial agencies, which ensure strict levels of regulation and security: the FCA in the UK, the Cyprus Securities and Exchange Commission (CySEC) in Europe and the Australian Securities and Investment Commission (ASIC). The broker is also a member of the Financial Industry Regulatory Authority (FINRA) and Securities Investor Protection Corporation (SIPC) in the US.
These regulations ensure that eToro stores your funds in a segregated bank account and entitles traders in the UK and EU to compensation if the firm becomes insolvent. On top of this, the broker offers private insurance of one million euros, dollars or pounds to all its customers. This demonstrates the company's commitment to the protection of its clients.
The FCA and EU regulations also require companies to publish information on risk management – you can find eToro's pillar 3 disclosures on their website. Moreover, you will need to complete KYC checks.
Note that the regulatory agencies, their compensations and eToro's private insurance only cover cash, CFD positions and securities. Crypto trading is not subject to regulation by any official body and no financial consumer protection schemes are in place.
Security
eToro takes several measures to ensure customers' accounts are secure, including data encryption. Payments execute with SSL technology and depositing funds using credit or debit cards is subject to card authentication using 3D-secure. Traders can add an extra layer of security by activating two-factor authentication (2FA) on their trading account, whereby you will need a code sent to your mobile to log in.
Going Public
eToro Group LTD is soon to merge with FinTech Acquisition Corp. V to publicly list on the NASDAQ stock exchange, under the ticker FTCV. This means that the broker will need to publish financial statements regularly, increasing its transparency.
Tax
eToro's clients should ensure they are calculating and paying tax according to the law in their country of residence. Dividends are taxed in the country where the issuing company is incorporated. UK citizens trading US stocks must complete a W-8BEN form to receive tax savings on interest payments. You can pair the broker with Koinly through a CSV file import to simplify reporting crypto taxation. Koinly will calculate your taxes based on your location and generate your EOFY tax report.
eToro Contact & Customer Support
Although eToro has a comprehensive help centre, its customer support is not easy to reach. You can send the support team an email, call them up or submit a ticket through its web-based system.
Email Address: support@etoro.com
US Phone Number: +1 8 882 718 365
UK Phone Number: +44 2038 687 213
Australia Phone Number: 1-800 778 439
The broker is also active on social media and regularly answers queries on various sites. Twitter is a good place to find out if any issues you may be experiencing, like the website being down, are affecting other users.
The broker also offers a 24/7 live chat function on the site for members with over $5,000 in equity. Other clients and prospective users will find the team is not available round-the-clock. Therefore, you may need to wait a few hours to get help from customer support if you have urgent trouble. For example, if your 2FA is not working, your orders are rejected, your account keeps signing you out or you cannot deposit funds.
Education & Research
eToro's social platform is full of blog posts and other users' takes on the market. By clicking on an asset, you can immediately bring up specific information, news, charting and analysis. Here, you will be able to keep up with events that may affect the market, such as the launch of a SpaceX satellite or an important quarterly report.
The firm has a dedicated online training academy that offers guides, podcasts and video tutorials. Weekly webinars and Q&As are also offered, which cover the basics of trading stocks, currencies and cryptos. Unfortunately, these features are only available for non-US customers.
A great way to learn how to trade effectively is to use a demo account. eToro offers a free practice account to all users, which comes with 100,000 in virtual funds. Therefore, clients have a safe environment to experiment with markets and strategies of different risk levels. You can also get to grips with applying leverage, stop loss orders and take profit orders.
If you want to learn more about eToro or hear what other customers are saying, check out forums like Twitter, Reddit, Trustpilot, 4chan and YouTube, where there are also many tutorials. The firm often offers cryptocurrency airdrops, so keep an eye on its social media presence for similar announcements.
Advantages
There are several reasons why eToro is a popular global broker:
Regulated
Debit card access
Free crypto wallet
15 base currencies
Good education centre
Wide range of markets
Social and copy trading
Crypto swaps and CFDs
Private insurance for clients
Commission-free stocks & ETFs
Disadvantages
However, all firms have their downsides:
US clients limited to cryptos
No third-party platforms
No APIs or automation
Withdrawal fees
eToro Verdict
eToro has such a huge worldwide presence that you have probably seen its logo emblazoned on a European football team's jersey or had one of their adverts pop up on YouTube. The broker is dynamic and used by traders of all types thanks to its wide range of services. Clients can access a huge number of CFDs, cryptos and securities, allowing for diverse portfolios at low cost. Feel free to check out its popular copy trading platform using the free demo account.
FAQ
Is eToro Safe?
eToro has been around since 2007 and receives regulation from several well-regarded institutions. It is a reliable company that purchases private insurance for every customer's assets and works to protect each of its customers.
Is eToro Good For Swing Trading?
eToro's variety of instruments and asset classes supports several different trading approaches, including swing trading, long-term investing and scalping. Moreover, the firm offers competitively priced trading conditions and sophisticated copy trading and analysis tools.
Does eToro Offer CFD Trading?
eToro does not only offer securities investing in stocks and ETFs, clients can also purchase contracts for difference. These derivatives make short-term trading much easier and cost-effective and encompass equities, forex, commodities, indices and cryptos.
What Payment Methods Does eToro Offer?
eToro clients can fund their accounts via credit cards, debit cards, bank wire transfer, PayPal and e-wallets, including Neteller, Skrill, Rapid Transfer, iDEAL, Klarna and POLi. The broker accepts deposits in multiple currencies: EUR, GBP, AUD, RMB, THB, IDR, MYR, VND, PHP, SEK, DKK, NOK, PLN and CZK.
Is eToro Available For US Clients?
Yes, clients from 44 states can open an account with eToro. However, local regulations ban CFDs, so only cryptocurrency trading is available.