MetaTrader 5
MetaTrader 5 (MT5) is an advanced online trading platform, offered by many brokers around the globe. The latest MetaQuotes solution provides easy access to the financial markets through a dependable interface, downloadable on PC and Mac. In this guide, we will answer how MT5 compares vs its predecessor, MetaTrader 4. This platform review will also cover the key features of MetaTrader 5, such as the free demo account, signals and indicators, plus automated and copy trading. Follow this tutorial to learn how to download and use the MT5 platform.
Top brokers that support MT5 in 2023 include XM, Pepperstone and OctaFX.
What Is MetaTrader 5?
MetaTrader 5 is a standalone trading platform that functions as an intermediary between traders and brokers. MT5 was released in 2010 by its owner company, MetaQuotes, as a free computer download, mobile app and web platform.
Contrary to popular belief, MetaTrader 5 is not merely an updated version of MetaTrader 4. Instead, it's a separate platform designed for different uses such as trading on the global stock markets.
The terminal contains all of the trader favourites from MT4 such as a free demo account and a coding language for custom indicators and expert advisors. Importantly, this language has been comprehensively updated from MQL4.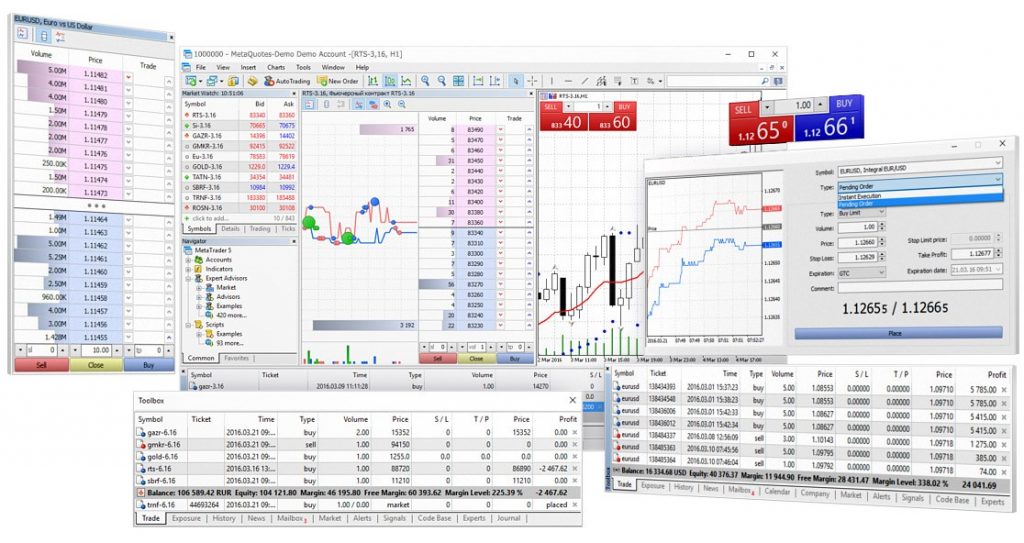 Markets & Instruments
One of the main differences between MetaTrader 5 and 4, as well as other competitors, is its versatility. Designed with a range of trading instruments and markets in mind, MT5 provides investors with a complete market experience, supporting both brokerage and exchange trading.
In addition to the forex and CFD trading supported by MT4, MetaTrader 5 offers futures, stocks and shares, options, bonds and cryptocurrency spot markets. Traders can customise desired leverage through options contracts or deal without leverage at all.
As well as trading CFDs on leading indices like the S&P 500, Nasdaq, Dow Jones and Dax 30, investors can now purchase individual stocks from many global markets. As such, the trading opportunities available to day traders, swing traders and investors alike are vast. MetaTrader 5 also allows commodities and cryptos like XAUUSD Gold and Bitcoin to be exchange-traded or purchased as futures.
Charts & Indicators
A solid selection of charting and drawing instruments can be the difference between spotting an opportunity or missing it. These elements are even more valuable for swing traders who rely on technical analysis to find profitable short to medium term market trends.
Trading Charts
MetaTrader 5 has a selection of 21 timeframes, with intervals ranging from 1 minute up to one month. Custom intervals can also be created. Furthermore, traders can set up keyboard shortcuts to quickly swap between chart timeframes.
A significant addition to MetaTrader 5 is the depth of market (DoM) chart view, which displays bid and ask quotes for a particular asset and the volume available at each price. This feature allows MT5 to remain competitive vs platforms like TradingView (where MT4 cannot).
There is also a detailed economic calendar displaying major upcoming financial events, perfect for swing traders who need to keep abreast of market news.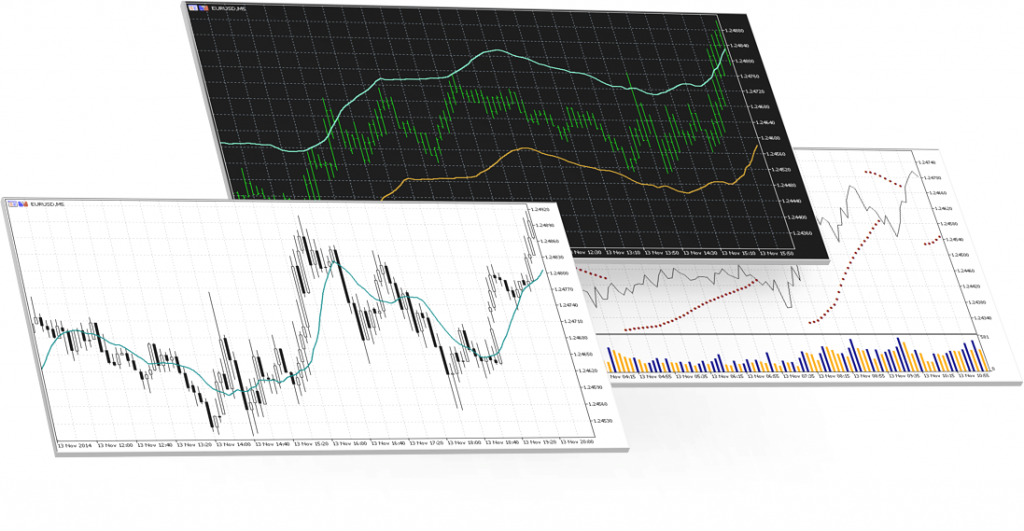 Indicators
A suite of 38 technical indicators is provided to MetaTrader 5 users upon their first login, including exponential moving averages, MACD lines and all-important volume tracking. Traders can use these algorithmic trackers to predict future price movements based on historical patterns.
If these are not sufficient, thousands of custom indicators are available on the MetaTrader 5 marketplace for seamless API integration. These community-made technical indicators can include fees to rent or buy, but experienced coders can create their own using the MQL5 coding language at no cost.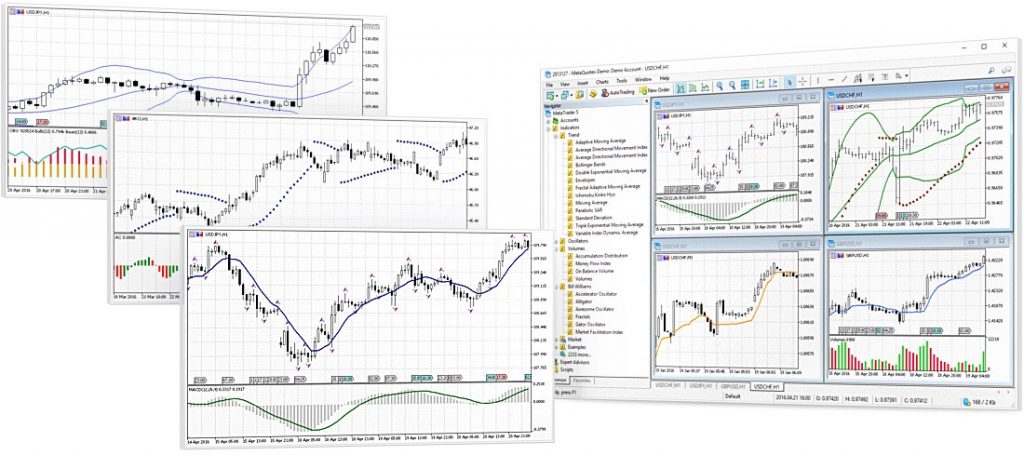 MetaTrader 5 Tools
Investors looking for an edge to their strategies can benefit from MetaTrader 5's pre-included trading tools. These range from customisable alerts to fully automated trading.
Keyboard shortcuts, or 'hot keys', are also a handy tool. These allows traders to execute orders, quickly switch between assets and markets, or apply indicators at the touch of a button. Paired with programmable alerts, traders can keep pace with fast-moving markets without frantically flicking between tick charts. You can find the full list of hot keys on the MT5 website.
MetaTrader 5 includes six separate pending order types: two more than MT4. These are the buy limit and stop, sell limit and stop, buy stop limit and sell stop limit.
Swing traders may benefit from these features, in particular, as they don't have to constantly monitor positions over extended periods. With this, they are secure in the knowledge that significant movements won't be missed by their preset pending orders.
Virtual Hosting
MetaTrader 5 supports the use of a VPS, or virtual private server, providing access to trading markets around the clock. This is beneficial for markets with lengthy trading hours such as crypto and forex, ensuring clients don't miss out on trading opportunities out of their time zone.
Copy Trading
MetaTrader 5 supports copy trading through its signals service, which allows community members to publish their trades and price predictions. Traders can view historical data on the profitability of a signal to help decide whether the trade is worth copying. Often, there will be a cost to subscribe to signals services, with prices ranging from low to substantial for established providers.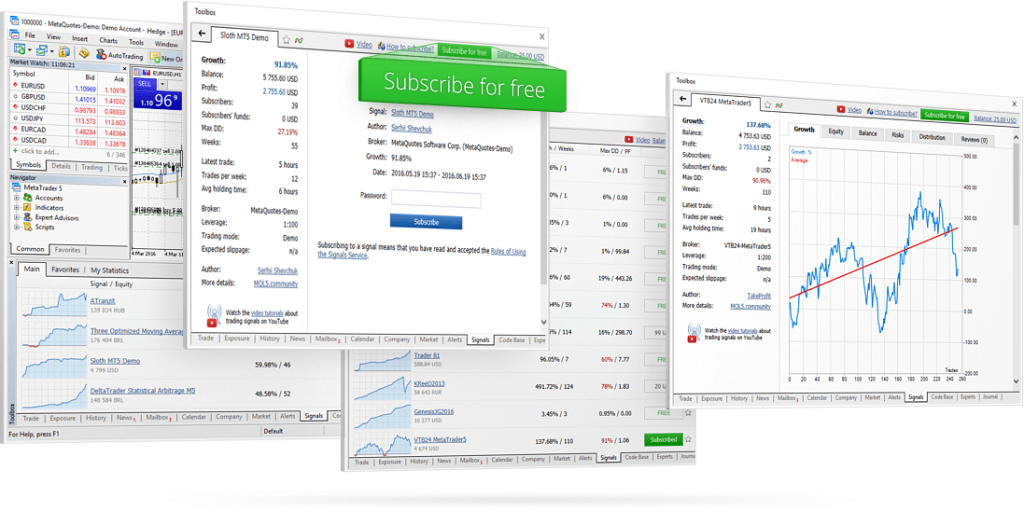 Automated Trading
Perhaps the most renowned feature of the MetaTrader 4 and 5 platforms is their expert advisor integration. Expert advisors (EAs) are programs that scan the financial markets and place trades on your behalf. Positions are executed according to preset algorithms from market open time to close. Designed to scan for patterns that indicate upcoming price movements, EAs are primarily used to trade forex. With that said, they can be used across multiple markets.
Traders can choose between creating their own EA robots or installing a bot from the MQL5 marketplace. Creators of trading robots will normally charge for this service, although prices vary. Users who wish to carry over a favoured expert advisor from MT4 to MetaTrader 5 will be disappointed. Unfortunately, the separate programming languages of the platforms means that direct transfer is not possible.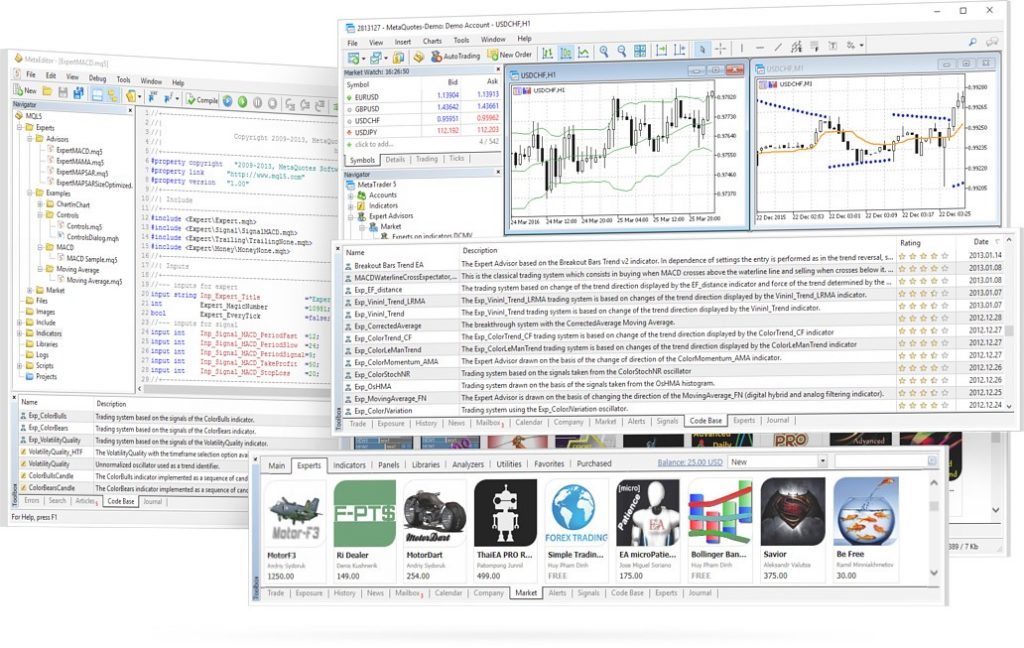 Using the strategy tester, backtesting your expert advisor's trading strategy against historical data is easy. Market trends often repeat themselves, so with enough data, traders can predict the profitability of a trading bot in upcoming market conditions.
MetaTrader 5 Compatibility
One of the greatest strengths of MetaTrader 5 is the range of available operating systems it can run on. The first option available to all operating systems with an online browser is through the MT5 web terminal. Capabilities of the webtrader may be reduced compared to standalone software, but is still a useful and accessible tool.
The second option is to download and install MetaTrader 5 as a program. The platform is available for Windows 7, 8, 10 or 11 via PC download as well as on Mac or Linux operating systems. With low system requirements and 64-bit support, downloading and installing MT5 should be accessible for most. Chromebook users may have to use the web terminal for online login or run the mobile application from their laptop.
Mobile Trading
Another way to access the MetaTrader 5 platform is via the mobile app. With the rise in on-the-go trading, the MT5 app has been developed for both iOS and Android, available from the Apple App Store and Google Play, respectively.
It is not recommended to download any MetaTrader 5 APKs; instead, the application should be installed using the official app store of your device.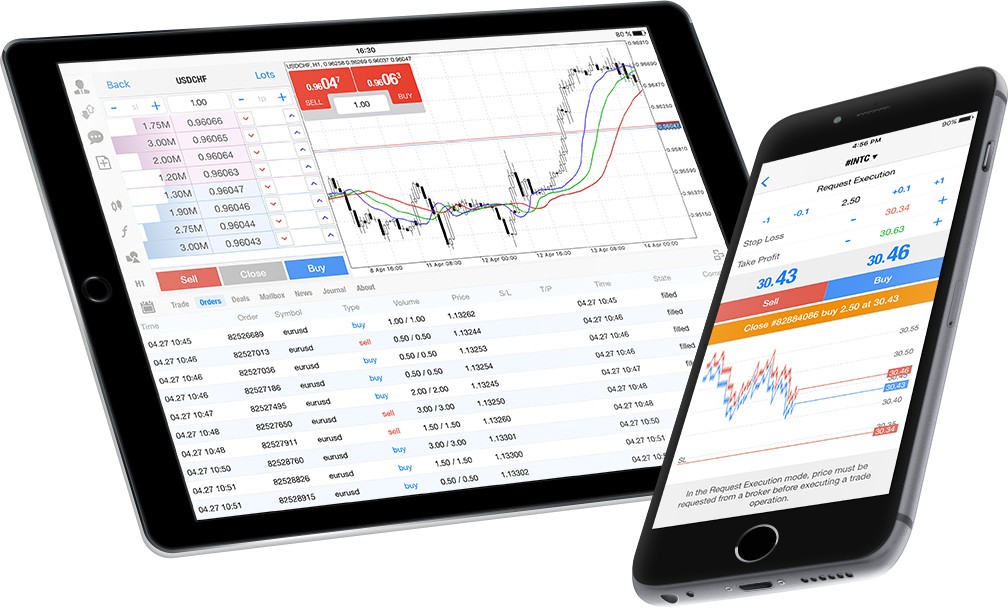 Trading Accounts
As MetaTrader 5 is only a platform, it isn't possible to create a trading account directly through the terminal. Simply explained, the platform provides the infrastructure that connects traders to their desired market, whether through an exchange or broker. Individual asset price quotes are provided by a brokerage.
To open a real funds trading account and log in, traders must sign up to a broker that supports the platform. As MetaTrader 5 is among the most popular third-party trading terminals, thankfully, traders have a wealth of options here.
Brokers that operate in jurisdictions like the USA, Hong Kong and India all offer the top-rated terminal. The best brokers that support MT5 include XM, Pepperstone and OctaFX, amongst others. Unfortunately, there are some notable MT4 brokers that don't support MetaTrader 5, such as UK CFD giant, IG.
Demo Account
Should you wish to try MetaTrader 5 before you commit to a live account, investors can open a demo trading account without signing up with a broker or exchange. Registration is free and straightforward, and you can get a feel for the platform or deal with new instruments risk-free. The demo trading server is available to all, and experienced traders will often utilise it to test expert advisors and new trading strategies before risking funds.
MetaTrader 5 Security
Convinced by MetaTrader 5 so far but asking: "is it safe?" With scams still present in the trading community, a dose of caution is sensible before committing to registration.
Traders will be reassured to know that MetaTrader 5 is an entirely legitimate platform that takes strong measures to protect your live accounts and personal data. Indeed, the platform's commitment to client safety means that they are a more secure choice than many proprietary broker platforms.
After registration with a broker that provides MT5, unique sign-in details will be created and sent to you via email. Ensure that you store this information securely.
Extra security is also provided in the form of 2FA: two-factor authentication. This service is typically set up using a mobile device, and users must request a one-time passcode to access their account. Importantly, 2FA can help secure your account if your details fall into the wrong hands.
Regular updates are provided for all MetaTrader 5 supported operating systems including apps to enhance security and reliability. Make sure that your device isn't waiting for an update to give yourself the best chance at safe and dependable trading.
Customer Support
A responsive and proficient customer service team should form the backbone of any trading platform. MetaTrader 5 relies on the customer service teams of its brokers, plus a well-stocked help section on its website.
Troubleshooting and support guides are provided for many common issues such as the platform not connecting, portal freezes, invalid account error codes or new order buttons being greyed out. If your MetaTrader 5 app is not working or you can't place a trade order, you can also turn to your broker. Many have the live chat and email support features that MetaQuotes lacks.
It's also worth noting that MT5 has a large and active trading community that may offer help with general issues and errors, as well as problems with add-on indicators and expert advisors.
The MetaTrader 5 community is also invaluable when it comes to learning how to use the platform. Whether you are new to the platform and grappling with how it works, want to learn how to create trading robots in the MQL5 programming language, or you're looking for tips and tricks to get graphs explained, the abundance of user guides and manuals available online can provide help and guidance.
These tutorials can be found on forums, in online PDFs or through videos on YouTube, allowing traders to pick whichever format they best engage with.
Advantages
Some of the best features of MetaTrader 5 include:
Wide choice of markets and instruments- MetaTrader 5 excels in its range of markets and instruments, from forex to crypto. This gives it a distinct advantage vs MetaTrader 4 and allows it to compete vs platforms like cTrader and TradingView.
Highly customisable- MT5's owner, MetaQuotes, has stuck with its philosophy of allowing users to customise their trading experience through custom trading windows and add ons.
Free to use and download- The MetaTrader 5 platform itself is free to use on all devices and features a demo trading account.
Both netting and hedging supported- A choice of two accounting modes gives traders more flexibility and control when trading on the stock and forex markets.
Improvements from MT4- While MT5 is not a direct replacement of MT4, several improvements include lower system requirements, a more intuitive programming language, more indicators and the addition of order books.
Drawbacks
There are also some disadvantages of trading with MetaTrader 5:
More complex than other platforms- Complaints highlight that other terminals are more beginner-friendly, with MT5 somewhat over-equipped for simple strategies.
Less popular than MT4- Many traders and brokers still favour MetaTrader 4. This means that traders will have a smaller pool of brokers to choose from, as well as fewer custom indicators and expert advisors to download.
New programming language- While several improvements have been made from MQL4 to MQL5, the lack of support for the previous language means traders moving from MT4 may be left without their favourite indicators and EAs.
Lack of customer support- Despite substantial MetaTrader 5 help sections and user guides online, there is no dedicated customer support team who are intimately familiar with the platform.
How To Open A MetaTrader 5 Demo Account
One of the great things about MetaTrader 5 is that prospective users can trial the platform before committing to a live brokerage account. Here's how to get started demo trading with MT5:
Pick Your Platform
MetaTrader 5 users are spoiled for choice when it comes to available operating systems, with a web terminal accessible from your browser, as well as downloadable programs for PC, Mac and Linux. Mobile apps on iOS and Android are also available but it's recommended to set up your account on a computer-based platform.
To install MetaTrader 5 onto your system, a download can be done securely from the official website. From there, it's as simple as clicking on the correct link for your operating system, starting the install and following the instructions.
To download the app for iOS or Android, search for MetaTrader 5 in the App Store or Google Play. Ensure this is the legit app to avoid falling victim to scams.
Account Registration
Account registration is fairly straightforward for an MT5 demo account.
Once the installation has finished, traders who chose to download the MetaTrader 5 platform can open the program, select "file" from the top menus and click on "open an account". Unlike with MT4, traders are required to sign up with a brokerage that supports MT5 demo trading, but there is no requirement that this be translated into a live account later on.
Next, enter your name, email, phone number and desired account preferences. Once this is complete, you are ready to demo trade on the MetaTrader 5 platform. Your sign in details will be sent to you using the integrated email system at the bottom of your screen. Ensure you store these securely.
How To Open A MetaTrader 5 Real Account
Once you are ready to wager real funds on a live account, here's how to open a MetaTrader 5 real account:
Select Your Platform
As with the demo trading account, traders can choose between a web terminal, a downloadable program for PC, Mac and Linux or a mobile app for MT5.
Head to the MT5 website to initiate the installation process. Once you have followed the instructions for your operating system and downloaded the MT5 software, you can register.
Again, you can download the MetaTader 5 app for iOS or Android by searching for the MT5 application in the App Store or Google Play.
Choose A Broker Or Exchange
Depending on which instruments and markets you wish to trade, different brokers will better suit your needs. While all of the available brokers will use MetaTrader 5 as their platform, they can vary substantially in aspects such as minimum deposit or withdrawal amounts, commission or spreads, and accessible margin levels.
Account Registration
Traders can either sign up to a broker or exchange through their website or via the MT5 client itself. Those who opt for the former will receive their MetaTrader 5 sign in details via email or as a secure message on the broker portal.
Creating an account through the trading platform itself will be a largely similar process. The live account creation process is in the same place as for opening a demo account. This time, after choosing your favoured broker, select "open an account for live trading".
Traders will then have to fill in personal information such as their name and address as well as conforming to any verification protocols required by the broker, often including proof of identity. MetaTrader 5 uses significant encryption to protect this data, so traders can be confident of its security.
Once verification is complete, traders will receive their new MetaTrader 5 sign in details via email or secure message. You are now ready to trade.
Payments
It is worth mentioning that MetaTrader 5 does not facilitate account payments such as deposits and withdrawals. These must instead be completed through login to the online brokerage website. You can usually find guides on how to deposit and withdraw funds on the broker's website.
Upon making a deposit or withdrawal with your broker, MetaTrader 5 will quickly update to reflect your current balance. Furthermore, the platform isn't in charge of any deposit or withdrawal fees. These policies are set by your broker or exchange.
MetaTrader 5 Verdict
MetaTrader 5 is a great choice for traders who want to access alternative instruments to the forex and CFDs already offered in MT4. Safety, security and reliability are top-notch as traders have come to expect from a MetaQuotes product. Also, tools like expert advisor integration, copy trading and VPS support offer an edge for advanced traders.
The comparative complexity of the platform means that others are more beginner-friendly, while the lack of compatibility with MT4 tools will disappoint some. This being said, MetaTrader 5 is a comprehensive and capable trading platform with class-leading customisation.
FAQ
What Is The Difference Between MetaTrader 4 And MetaTrader 5?
MetaTrader 5 is designed to facilitate trading with a wide range of instruments such as spot trading, bond purchases and options. In contrast, MT4 was only designed for forex and CFD trading. Several other improvements have been made including an updated programming language, the inclusion of order books and additional stock indicators.
Does MetaTrader 5 Support Dark Mode?
Unfortunately, MetaTrader 5 does not have an inbuilt dark mode on its desktop programs. However, there are tutorials on custom themes online detailing how to manually change to dark mode. The Android and iOS apps will mirror your device settings, facilitating dark mode natively.
MetaTrader 5: Is It Legal In India?
Yes, MetaTrader 5 is legal in India as well as most global jurisdictions, however, trading rules can vary. You should always check that your broker follows jurisdictional regulations before signing up.
Is The MetaTrader 5 API Compatible With Python?
Keen programmers may want to design custom indicators and expert advisor robots in universal coding languages like Python. Fortunately, there are several use cases for Python integration and guides for this can be readily found online.
Does MetaTrader 5 Support Netting?
In addition to hedging, MetaTrader 5 supports netting. These accounting modes allow traders more flexibility over their trading orders and executions. Netting means that traders can only have one open position at a time.