NinjaTrader is a global trading software developer primarily known for its innovative NinjaTrader 8 platform, available to download through several leading brokers. The company also operates a futures and forex brokerage for professional and retail clients. NinjaTrader 8 is geared towards technical analysis, with customisable indicators, thousands of third-party apps on the NinjaTrader Ecosystem, and extensive support for automated trading. But how does it compare vs competitors like MT4, MT5, TradeStation, and MultiCharts? In this review, we will look in detail at NinjaTrader, helping you decide whether the platform suits your needs.
What is NinaTrader?
Founded in 2003, NinjaTrader is based in Denver, Colorado. Their open-source platform is now in its eighth incarnation with over 500,000 global users, and is particularly popular with futures traders. Many large online brokers, including TD Ameritrade, Interactive Brokers, and Oanda have made NinjaTrader 8 available to their clients.
NinjaTrader Brokerage, a subsidiary of the NinjaTrader Group, is a discount futures contract, options, and forex broker. The company also owns Kinetick, a real-time and historical market data provider.
NinjaTrader is registered with the NFA (National Futures Association). Most of its supporting brokerages are regulated by top-tier financial authorities such as the US's CTFC or the UK's FCA. The platform uses CQG Continuum as its primary data feed, although Rithmic is also available.
NinjaTrader 8
NinjaTrader 8 is the latest version of the regularly-updated NinjaTrader platform. Thanks to its impressive analytical tools, the platform is suited to active traders. Compared to its predecessor, NinjaTrader 7, the system has been given over 500 technical enhancements, including better speed, the introduction of historical (level 1) bid-ask data, plus several charting and indicator improvements.
Traders can find a detailed description of NinjaTrader 7 vs 8 in the release notes online. The platform is mostly preferred by futures and options traders, whereas many forex traders opt for MetaTrader 4, which, like NinjaTrader, is open-source.
Key features of the platform include:
Advanced Charting: a wide range of charts and indicators are supported. Their technical analysis tools are sophisticated but relatively user-friendly.
Customisability: the interface has a large number of customisation options. Technical indicators can be modified to suit your swing trading preferences.
Automated Trading: traders can create automated strategies using NinjaScripts, NinjaTrader's C#-based programming language.
Automated Trading Interface: for an even higher degree of flexibility, developers can automate order execution using the NinjaTrader API provided in the DLL files online. These files come with built-in C and C++ functions, but in theory traders can import and use the file with any programming language, such as Python or Java. Inspiration can be found on repository services such as Github.
Apps and Add-Ons: third-party developers have been encouraged to develop thousands of apps and add-ons, including trade copiers and additional indicators such as market profile. These can be purchased through the NinjaTrader Ecosystem and uploaded as a zip file.
Demo: clients can access a free demo with historical market data, to trial their trading strategies before risking any capital.
Hotkeys: keyboard shortcuts can be used to load a NinjaScript, access the Time and Sales (T&S) view, or simply zoom in and out of a chart, allowing for rapid trading.
Currently, NinjaTrader 8 can be downloaded onto Windows 10 PCs, with a Windows 11 client in development. There are no processor requirements, with both the 64-bit and 32-bit versions automatically downloaded when using a 64-bit PC.
NinjaTrader does not officially support running its platform on Mac or Linux (Ubuntu) computers, although it is possible for traders to access it using some technical wizardry.
Price
The NinjaTrader 8 platform can be downloaded and used free of charge without a supporting broker (though trading and market data fees still apply). This includes access to advanced charting, indicators and NinjaScript development.
However, to access the full range of features, traders are required to pay $60 a month to lease the software or $1,099 to buy it (which provides a lifetime license key). Alternatively, to avoid licensing fees, clients can sign up with one of NinjaTrader's partnered brokerage firms. In this case, the brokerage will set their own prices, via commission, inactivity fees, or other charges.
Charts & Indicators
NinjaTrader's platform is best for advanced swing trading practitioners, with a wide range of customisable charts and indicators. Beginner traders, however, may find the variety of technical features a little overwhelming.
Users can access over 100 pre-built indicators as well as thousands of third-party add-ons from the NinjaTrader Ecosystem, including news indicators, volume profile indicators, VWAP, EMA, Zigzag, Bollinger Bands, gap indicators, and more. In addition, NinjaTrader 8 features a good selection of bar types, including tick, time-based, Heiken-Ashi and Renko, plus several different chart styles such as Candlesticks, OHLC, Kagi Line, and Mountain.
Helpfully, adding tools and indicators, as well as a footprint chart is easy. For active traders, the Order Flow + premium suite supports sophisticated analysis using volumetric bars. One of the most powerful order entry features is NinjaTrader's DOM, SuperDOM. It is an interactive price ladder where traders can view market depth (level 2 data). However, DOM-focussed traders may prefer to use more specialised software, such as that provided by Jigsaw.
Overall, the platform provides superior charting capabilities vs competitors such as MetaTrader 4 and 5.
Orders
NinjaTrader 8 supports a large number of order types through the Advanced Trade Management package, including trailing stops, one-cancels-the-other (OCO), market-if-touched (MIT), and order time limits like good-til-cancelled (GTC). Basic trade orders like market, limit and stop-loss are also available.
Users can set custom alerts and notifications, such as simple moving average crossovers, although the advanced alerting system is only available on the paid version.
Backtesting
One of NinjaTrader's most impressive features is the Market Replay function, which allows traders to test strategies using downloaded historical market data. The simulated data feed provides free live data to all users, which can be used to fine-tune strategies, known as optimisation.
"Paper Trading", as virtual trading is known, is a crucial part of developing a successful trading system, whether automated or otherwise. The Market Replay tool can also be used for trading research purposes. To disable the ability to place live trades while using this feature, select the Global Simulation Mode.
Automated Trading
Many swing traders use automated strategies or trading bots to increase the repeatability and frequency of their trades. Automated trading is well-supported on NinjaTrader 8; customers can create custom programs using the NinjaScripts language, or purchase third-party bots on the NinjaTrader Ecosystem. In addition, the newly-developed Strategy Builder allows clients without coding experience to develop automated strategies using a point-and-click system.
Education & Research
Traders have access to a decent range of educational resources, including daily webinars and high-quality help guides for both the NinjaTrader 7 and 8 platforms. There are also a series of "How To" tutorial videos on both the website and Youtube, covering the platform's features and general topics in trading. In addition, traders can practise using the NinjaTrader 8 free demo account and simulator. It is recommended that less experienced clients make full use of the learning facilities available, as the platform can be daunting to use.
Market Data & Supporting Brokers
As an independent trading platform, clients have a choice of supporting brokers. For an optimal experience, it is recommended that customers use one of the brokers available through NinjaTrader Brokerage, Philips Capital or Dorman Trading. Other supported brokers include:
CQG
FXCM
Oanda
Rithmic
Continuum
MB Trading
TD Ameritrade
Clear Corretora
GAIN Capital/Forex.com
Interactive Brokers (provides services to traders in Canada and India)
With other supporting brokers, NinjaTrader clients can trade a wider range of instruments, including cryptos, CFDs, forex pairs, and more.
NinjaTrader 8 supports several additional market data providers, including data feeds from eSignal, Yahoo Finance, Google and TradeStation. For full market depth, clients are required to pay monthly data fees.
NinjaTrader Brokerage
Products
The NinjaTrader Brokerage is primarily focused on futures trading. Account-holders have access to 70 assets, available on the following markets:
CME: Chicago Mercantile Exchange
CBOT: Chicago Board of Trade
COMEX: Commodity Exchange Inc.
NYMEX: New York Mercantile Exchange
EUREX futures & options exchange
ICE: Intercontinental Exchange
ICE UK
Clients can also trade options on futures on the CME (Equity Indexes, Interest rates, Agricultural, FX), NYMEX (Energies), CBOT (Dow Jones E-mini, Interest Rates, Agricultural), and COMEX (metals) markets, including gold.
Unfortunately, those looking to trade cryptos would need to use an alternative broker such as Binance.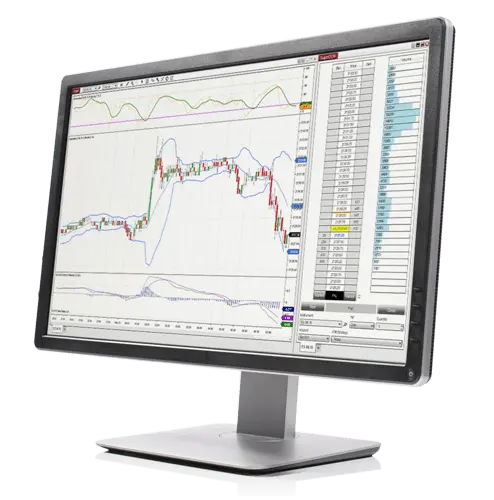 Fees & Margins
The trading fees charged by NinjaTrader on futures and options contracts are fairly low. For instance, clients are obliged to pay $0.29 commission, $0.22 in exchange fees, and a $0.10 order routing fee per micro stock futures contract. However, the cost of routing does vary with data provider (Continuum or Rithmic).
Customers who choose the 'Lease' or 'Lifetime' licenses can access lower fees than those on the 'Free' membership (whose prices were quoted above). However, there is a $30 withdrawal fee for bank transfers ($40 for international banks). Margins for popular futures like the S&P 500 index are around $500, but other futures contracts may be as much as $1000. The margin for micros, on the other hand, can be as little as $50.
Payments
The minimum deposit requirement for a futures trading account, targeted at active traders, is $1,000. Forex Trading accounts, on the other hand, can be opened for as little as $50, though this is still higher than competitors such as XM. NinjaTrader does not charge fees on deposits. The range of payment options could be greatly improved, with only bank transfer and cheque available. As previously covered, bank withdrawals can cost up to $40.
Customer Service
The customer support team of around 20 is responsive and knowledgeable, available for a variety of problems such as username and password issues. 24/5 trading support and 24/7 emergency trade support is offered in several languages, ensuring that the help desk is available no matter your country or time zone. Contact details can be found below:
Phone Number (Emergencies & Live Orders)</: +312 423 2234 li>
Phone Number (New Clients): 1800 496 1683
Email (Platform Support): platformsupport@ninjatrader.com
Email (New Clients): brokeragesales@ninjatrader.com
Email (Pending Applications): applications@ninjatrader.com
Note that although trading support for the NinjaTrader platform is available 24/5, trading hours will vary depending on the market traded and broker used.
In addition, a LiveChat feature is available on the website, although email is recommended for more advanced queries. There is also a Support Forum available where customers can get advice from the large NinjaTrader community for specific platform issues, such as an unhandled exception, or why a strategy is highlighted yellow.
Account Opening
Setting up an account with NinjaTrader is fairly smooth, if a little complex. Because NinjaTrader uses various supporting brokers, customers are asked to select between a futures trading, options, or forex account. To get started, clients are asked to provide proof of identity and address. New traders are also required to provide some information about how they want to use their account (markets, trading style, etc.). Once an account is opened, traders can login via the Client Portal. The clearing service now means traders have access to centralised account management.
Pros And Cons
Advantages of choosing NinjaTrader include:
Thousands of add-ons available via the NinjaTrader Ecosystem
Free trading simulator equipped with historical market data
Fully customisable, open-source, trading platform
Extensive support for algorithmic trading
Excellent technical analysis tools
On the other hand, there are a few disadvantages of using NinjaTrader:
Relatively complex platform
High withdrawal fees
No mobile app available (though brokerage customers can use the CQG app)
NinjaTrader Verdict
NinjaTrader is a sophisticated open-source trading platform and brokerage, specialising in futures and options trading. Through NinjaTrader Scripts, it is possible to create automated trading strategies and trading bots. These algorithms can then be tested on real-life historical data using the Market Replay tool. To access a wider range of tradable assets, it is recommended that customers use one of NinjaTrader's supporting brokers. The high withdrawal fees may also put less active traders off the NinjaTrader brokerage. However, the range of downloadable add-ons and customisation options is excellent.
FAQ
Is NinjaTrader A Good Brokerage?
As well as a well-renowned trading platform provider, NinjaTrader is a perfectly good futures and options broker in its own right. However, clients can also benefit from the NinjaTrader platform's advanced charts and indicators by using a supporting broker, which may be more cost-effective.
How Do You Rollover Futures Contracts On NinjaTrader?
Batch rollover of the contract expiry of all instruments is permitted. To perform a rollover, see the "Tools" menu within the Control Center followed by the "Database Management" menu item.
Should I Take A NinjaTrader Programming Course?
For those unfamiliar with C Sharp programming or NinjaScripts, it may be worth taking a look at an introductory programming course. There are several good video series put together by the NinjaTrader community available online.
Does NinjaTrader Offer Discounts Or Promotions?
20%, 30%, or 35% discount vouchers are often offered on lifetime platform licenses, so keep an eye out for those. As a regulated broker, the NinjaTrader brokerage does not allow deposit bonuses.
Does NinjaTrader Have A VPS?
NinjaTrader does not support an in-house VPS (virtual private server), although it is possible to use third-party VPS clients in conjunction with the platform.