MetaTrader 4
MetaTrader 4 (MT4) is the most popular online trading platform among retail brokers and swing traders. The downloadable terminal is available for Windows PC, Apple Mac and Linux, as well as Android and iOS mobile devices. In this MetaTrader 4 review, we look at the various features of the platform, including charts and technical indicators, copy trading signals, plus automated trading through Expert Advisors (EAs). Also included is a tutorial for beginners, covering the mobile app download plus real and demo account creation.
Read on to discover how suitable the platform is for beginners and whether you should consider using MT4 for forex, crypto, shares and commodities trading.
Top MetaTrader 4 supported brokers include IG, eToro, XM, IC Markets and Vantage FX.
What Is MetaTrader 4?
The MetaTrader 4 platform was created by software company MetaQuotes in 2005 to provide a stable and customisable online trading terminal. The platform proved to be a hit, with traders favouring its expert advisor robot integration and free practice account.
Despite the later release of MetaTrader 5, MetaTrader 4 is still utilised by many of the best brokers. From forex trading brokerages to cryptocurrency exchanges, MT4 has stood the test of time with millions of clients since its release over 15 years ago.

Trading Markets
MetaTrader 4 was initially extremely popular for forex trading, however, assets from a plethora of markets can now be traded. Additional MT4 markets include stocks and shares, cryptocurrency tokens such as Bitcoin (BTC), Ethereum (ETH) and Ripple (XRP), indices such as the Dow Jones US30, S&P 500 and FTSE 100, plus commodities including gold (XAUUSD) and crude oil. Ultimately, supported markets will depend on which trading broker you are signed up with. As a result, ensure that your chosen provider offers the assets you're interested in.
It is worth highlighting that MetaTrader 4 was designed exclusively for forex trading. So shares, indices, commodities and cryptos are only available in CFD form. Swing traders may prefer other instruments which don't levy overnight fees, and therefore may be suited to an alternative platform like MetaTrader 5.
Charts & Indicators
Clear charts and a range of indicators are a must for recognising patterns and conducting detailed technical analysis. This is especially vital for swing traders who often heavily rely on technical analysis for price predictions. So how do the charting tools and indicators offered by MetaTrader 4 compare?
Trading Charts
MetaTrader 4 offers several standard temporal chart views including 5-minute, 15-minute and 1-hour charts. Traders are not limited to these standard time frames, however, with customisation allowing for bespoke intervals like 2-minute, 3-minute or 10-minute charts. As swing traders will often look to hold positions over days or weeks, there is also the option to view hourly or daily timeframes.
Several charts can be viewed at the same time for comparison or enhanced real-time tracking. As such, MetaTrader 4 users can easily use two monitors or more to fill several screens with valuable market information.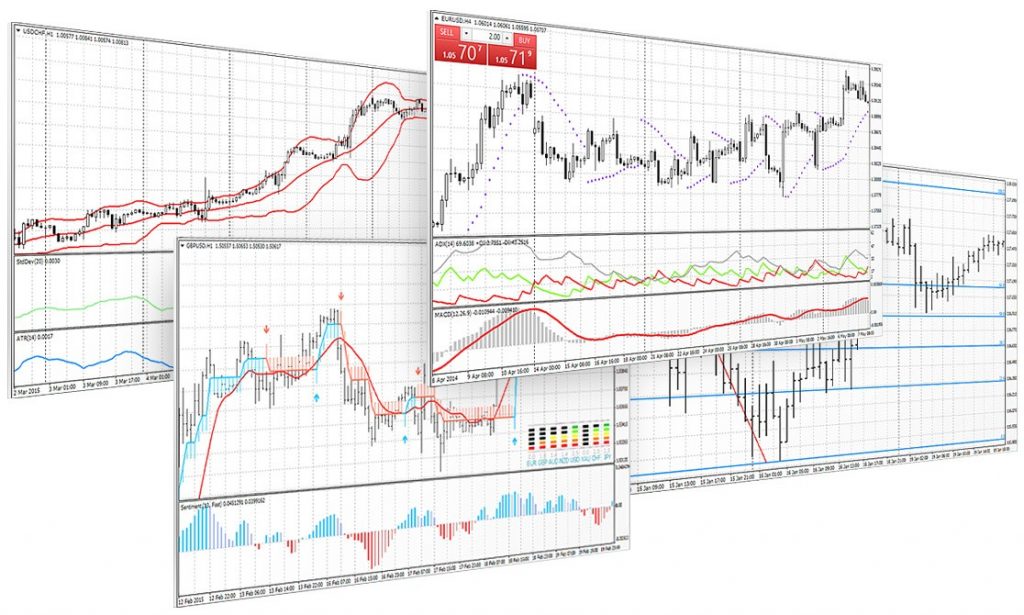 Indicators
Technical indicators are chart overlays that help predict future price trends. These are based on past data and form an essential part of any trading platform. MetaTrader 4 provides 30 built-in indicators which can be used separately or together to generate signals. As well as staples like Bollinger Bands and Moving Average overlays, the platform also supports more exotic tools such as the ZigZag indicator and the Fibonacci Retracement tool.
If these basics are not enough, third-party custom signals and indicators can be integrated seamlessly for an enhanced trading experience. Adept coders can even design new indicators and alerts in the MQL4 coding language. These can be added to their platform or even offered online for other traders to rent or purchase.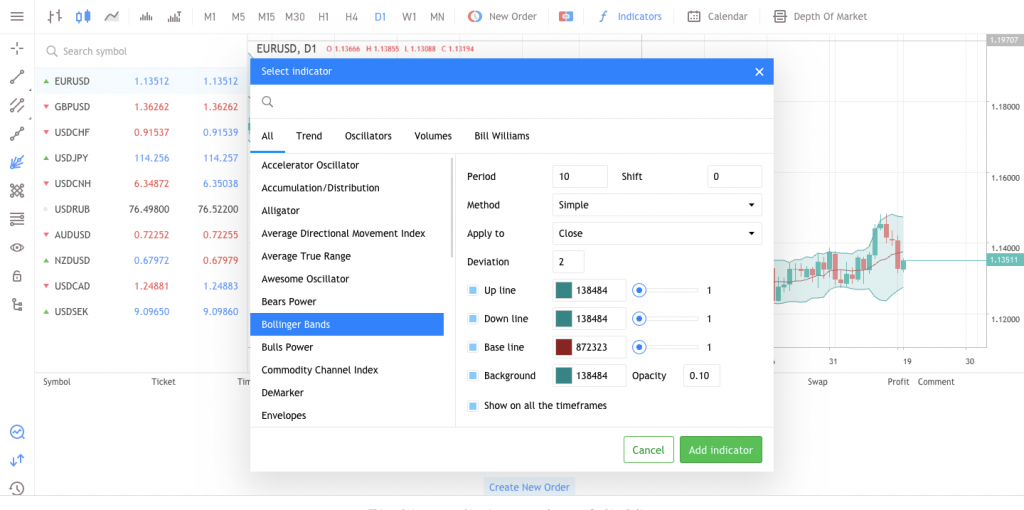 Trading Tools
In addition to solid charting, having access to a good range of trading tools allows investors to maximise profits. With a MetaTrader 4 account, traders can choose between market orders and limit orders to customise their trade entry point. They can also set tools such as an automated 'stop loss' or 'take profit' for effective risk management.
MT4 also includes customisable keyboard shortcuts that allow traders to quickly switch between charts and markets as well as execute trades. Another useful tool is the comment function, which traders can use alongside third-party journal software to help review past trades.
Automated Trading
MT4's automated trading facilities help the terminal stand out from proprietary broker platforms. Instead of manually trawling the markets for trading opportunities, many experienced investors will use Expert Advisor bots to flag signals and potential entry points. While MT4 doesn't charge fees for automated trading, EA robots usually have to be rented or bought.
MetaTrader 4 also supports the backtesting of automated trading bots. This helps to determine which market conditions the trading strategy historically would have been compatible with. This is a great way to refine a swing trading strategy before risking real money.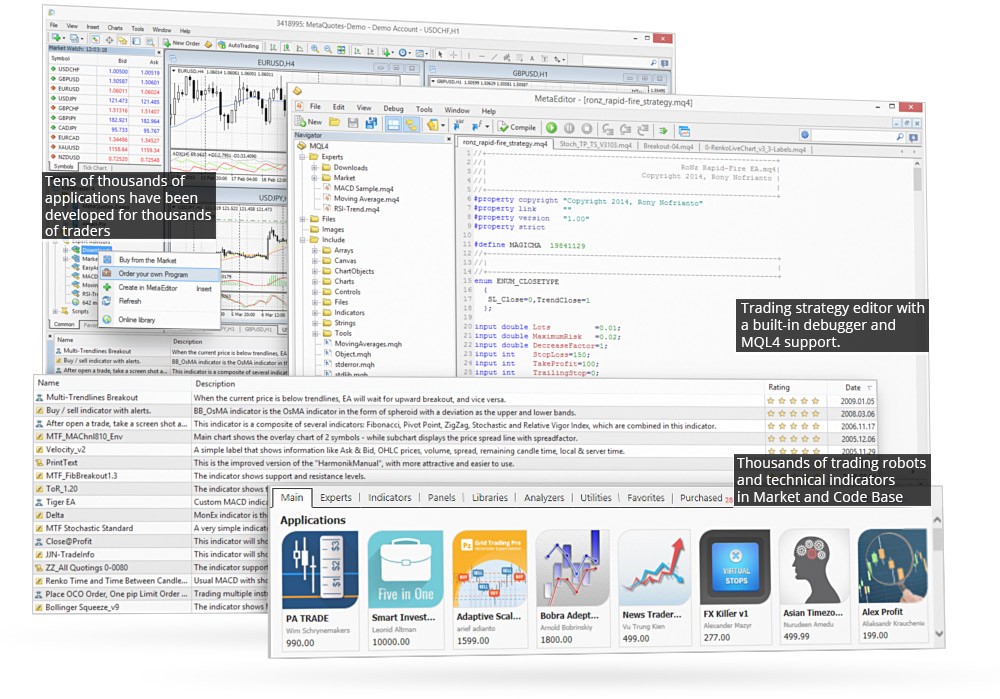 Copy Trading
An increasingly popular method of forex and stock investing is copy trading. This allows users to duplicate the positions of another trader, often a professional with a proven track record of profits. The professional trader therefore shares their signals and trades, in exchange for commission fees. This MetaTrader 4 feature has been made popular by sites such as eToro and gives it an advantage vs proprietary platforms.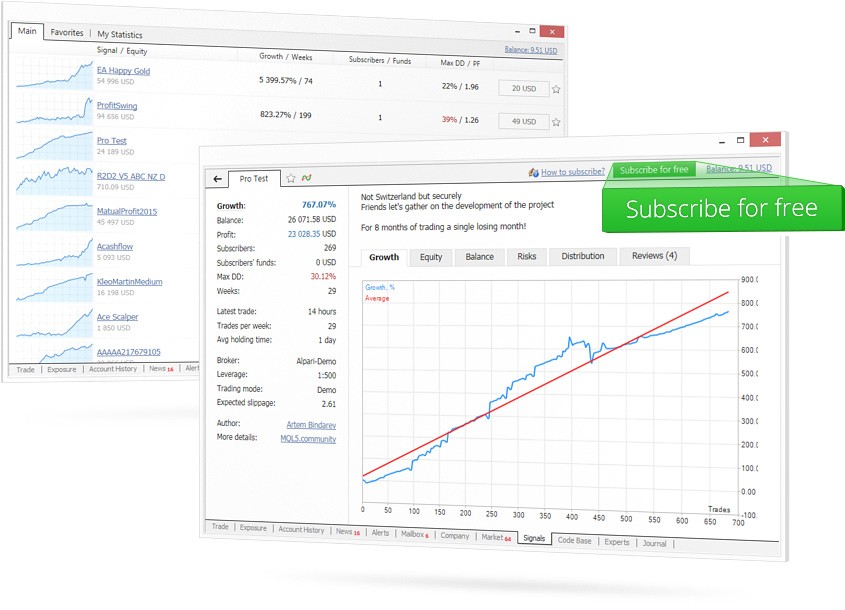 Platforms
Part of what makes MetaTrader so popular is its accessibility for a range of operating platforms. MetaTrader 4 comes as a standalone free app download for PC, Mac OS and Linux. Frequent updates are provided for all platforms to maximise security and reliability. Unfortunately, web browser trading is no longer supported for MT4.
While the setup is straightforward on Mac systems and Windows 7, 8, 10 and 11, traders who run Linux may need the help of a setup guide. Fortunately, these can be found online. Additionally, MetaTrader 4 for Chromebook will need to be downloaded from the Google Play store as a mobile application.
Mobile App
Before you open an MT4 account, many traders will want to know if there is a mobile app. Conveniently, there is a free MT4 app for both Android and iOS mobile platforms.
The application offers much of the same functionality as the desktop versions, including detailed technical analysis tools, full trading history and access to real-time quotes. Whether you want to trade on your phone, Android tablet or iPad, MetaTrader 4 has you covered.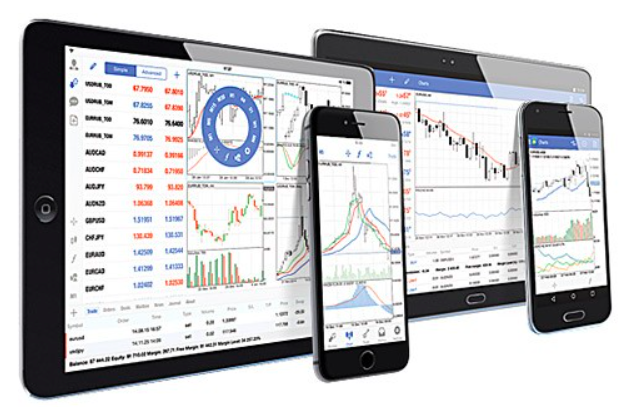 Trading Accounts
Some traders may be used to having their brokerage account and platform in one place with a proprietary broker platform. While some brokers will offer access to their own version of MetaTrader 4 through their website, MT4 is a standalone platform.
New traders should think of MT4 as the intermediary between your broker and the market, facilitating each transaction using the funds deposited onto your trading account. This means that instead of having to open a MetaTrader 4 account, users sign in to the terminal with their login information from their chosen broker.
Popular examples of MetaTrader 4 supported brokers are IG, XM, IC Markets and Vantage FX. Each brokerage will have unique fees, spreads, commissions, leverage and assets. Fortunately, the platform itself displays associated charges such as swap fees and commissions to ensure traders have maximum clarity.
Demo Account
While many of the best brokers offer free demo accounts, MetaTrader 4 also provides practice trading facilities. Before traders open a real account and start trading with actual funds, trading on a demo account is recommended, especially if you want to test a new strategy or expert advisor.
MetaTrader 4 Security
Before downloading MetaTrader 4, what many traders will want to know is whether it is safe and legitimate. Thankfully, MT4 is genuine and secure. Several safety features employed within the portal that offer greater protection than many proprietary platforms.
After registering with a broker with MT4 support, clients will be sent a unique login number and password to access their accounts. Depending on how this information is stored, having a separate login to your normal email and password details can help increase account safety. Also, MT4 makes it easy to set up one-time password requirements to login, further enhancing the security of accounts.
Note, all data sent between the MT4 servers and your terminal is encrypted to prevent it from falling into the wrong hands. Also, the MetaTrader 4 terminal download for PC and Mac should always be sourced from the official website or app stores such as Google Play to avoid scams. Traders should steer clear of unverified APK downloads. Frequent updates also help maintain both the security and stability of the platform.
Help & Support
MetaTrader 4 users may want to access support for platform queries such as how to use keyboard shortcuts or change the time zone. Similarly, users may need assistance with technical problems, for example, if the app keeps freezing.
MT4 clients are unable to contact MetaQuotes support if their platform is not working correctly, with the company not providing a contact number, email address or live chat. However, a comprehensive help section on the MetaTrader 4 website will help with common issues and 101 queries. The in-platform forum also provides insights from users. In addition, the popularity of the platform means that typing your issue into a search engine may yield a fix.
Alternatively, support can often be sought directly from your trading broker, with the best US, UK and global brokers offering a live chat service for immediate assistance.
Educational Content
One of the great things about MetaTrader 4 is how customisable it is, but this level of personalisation can be daunting for beginners. Thankfully, both the MT4 site and a wealth of online third-party guides offer tips on how to use the platform.
Whether you want to learn about the applications of the various integrated MetaTrader 4 indicators or set up custom signals alerts, there are plenty of resources available. Getting the most out of the platform is possible through the abundance of user guides and online PDFs, with many articles explained in a manner suitable for beginners.
Pros
Here are some of the most attractive features of MetaTrader 4:
Industry standard- Do you want to learn how to use an intuitive platform supported by the most brokerages? MT4 is your best bet.
Free to download- MetaTrader 4 is completely free to download on a number of platforms, including in mobile app form. Investors can also use a demo account for practise trading at no extra cost.
Online support- One of the benefits of MT4's popularity is the abundance of guides and help available online, including YouTube videos.
Secure and reputable- MetaTrader 4 users can trade with confidence, with secure login processes and one-time password capability (2FA).
Integrated demo trading- Traders can test out new strategies and learn new markets risk free.
Customisable- From customisable chart layouts to the wealth of additional indicators and expert advisors, MT4 has great scope for user personalisation.
Disadvantages
There are a few drawbacks of using MT4 to consider:
No dedicated support- While many guides and tutorials can be found online, the lack of dedicated support features such as a phone number or live chat lets MetaTrader 4 down.
Slower execution than rivals- For high volume trading, traders may be better off with another platform.
Can be overwhelming for beginners- The abundance of chart options as well as the technical look of the platform could be intimidating to new traders.
CFD trading only- One of the key differences between MetaTrader 4 vs MetaTrader 5 is the absence of spot or pure futures trading on the former.
How To Open A MetaTrader 4 Demo Account
If you would like to give the platform a try before you sign up for a brokerage, then MetaTrader 4 provides a demo trading facility. Here is a guide for beginners on how to open a demo account:
Choose Your Platform
Traders can choose between MetaTrader 4 for Windows, Mac, Linux or mobile apps. Standalone web browser trading is no longer supported. Don't worry – you can also change between platforms at any point as your login will work across all MT4 terminals.
If you would like to download MT4 onto your PC, Mac or Linux machine, then navigate to the official MetaTrader 4 website and select 'download' from the top menu. Select your operating system and follow the installation instructions.
To download the app for iOS or Android, navigate to the App Store or Google Play and search for the MetaTrader 4 logo. Ensure this is the legitimate app to avoid falling prey to scams.
Sign Up For An Account
Signing up for a MetaTrader 4 demo account is easy. Simply load your program or app and navigate to 'file' at the top before selecting 'open an account'. For a demo account, you then want to connect to a demo server with a low ping before selecting 'New demo account' on the following screen. Next, enter your name, email, phone number and desired account preferences.
Congratulations, you now have a MetaTrader 4 demo account. Make a note of your login information including both the trader and investor passwords. Also make sure they are stored securely.
How To Open A MetaTrader 4 Real Account
Done practising with your demo account or want to dive straight into real trading? Here's how to open a MetaTrader 4 real account:
Find A Broker
Unlike with a MetaTrader 4 demo account, traders cannot create a real account with which they can deposit, trade and make withdrawals on the platform itself. Instead, they need to sign up to a broker who provides MT4 with markets and quotes available.
Your chosen broker will need to support MT4, but this shouldn't be an issue as the platform is the most popular third-party terminal. Bear in mind that your choice of MetaTrader 4 platform broker will affect available leverage and margin levels, trading hours, minimum deposits and asset prices.
Sign Up To A Broker
Once you have found a broker that satisfies your requirements, then you will need to create a trading account. Once registration and verification are complete, your broker will email you your MT4 login details, as well as the IP address to join their server. Make sure you keep this data secure and don't lose it as the MetaTrader 4 'forgot password' procedure can sometimes be time-consuming and complicated.
Access Your Account
Once again, decide which form of the MT4 application you wish to use. You can download MT4 onto your PC, Mac or Linux, or those wishing to trade on the go can also head to the App Store or Google Play.
Once installation is complete, use the login details provided by your broker to connect to their trading server via the 'file' menu and select 'login'. After entering your username and password, you should be ready to trade.
Payments
New MetaTrader 4 users will want to know how to deposit and withdraw money. Importantly, this must be done via your broker rather than the MT4 terminal. Once your transaction is complete, the platform should instantly update your fund balance ready for trading.
MetaTrader 4 Verdict
It's no coincidence that even 15 years after its release, MetaTrader 4 is still favoured by the best brokers. The MT4 platform is safe and secure with heavy encryption and one-time password support. It also features advanced tools like demo trading, copy trading and seamless expert advisor integration. Future-proofed by user customisable signals, indicators and charting tools, MT4 will likely remain an industry favourite long into the future.
FAQ
Should I Choose MetaTrader 4 Or 5?
When it comes to comparing MetaTrader 4 v 5, it depends on whether forex trading and CFDs are the only markets you desire. If so, MT4 will likely meet the majority of your trading requirements.
Can I Create A Custom MetaTrader 4 Expert Advisor In Python?
Several plugins have been developed for MetaTrader 4. These allows expert advisor software coded in languages like Java and Python to work with the MQL4 native language.
Can I Have 2 MetaTrader 4 Accounts?
MetaTrader 4 users can have 2 accounts, or often more. This is because traders who use multiple brokerages will have individual login details for each brokerage account.
What Can I Do If MetaTrader 4 Is Not Working On Mac?
Unfortunately, MetaTrader 4 has no dedicated support team that can be contacted through a live chat or contact number. However, a substantial help section and a sizeable online community are available to help you troubleshoot problems.
Is MetaTrader 4 Easy To Use For Beginners?
Some features and customisability of MetaTrader 4 may initially seem overwhelming for beginners. However fortunately, there are plenty of guides online and on YouTube to help new users learn the ropes.