Brokers With CHF Accounts
The Swiss franc (CHF) is one of the most traded and stable currencies. This is partly why many brokers allow CHF to be used as an account base currency. This guide covers the benefits of brokers with CHF accounts, plus tips for choosing between online platforms.
How CHF Accounts Work
The base currency of a trading account determines the currency in which your transactions are processed and that trades are executed. Spreads, commissions and account fees will also be charged in the base currency.
As the name suggests, brokers with CHF accounts allow investors to manage their trading activity in the Swiss franc. CHF accounts are particularly beneficial for traders based in Switzerland and those who invest large sums in the Swiss franc – reducing conversion charges.
The Swiss franc is a reputable currency used globally. This means it is trusted by many of the largest trading firms, giving investors multiple options when choosing between brands. Some of the best brokers with CHF accounts are also regulated by the Swiss Financial Market Supervisory Authority (FINMA), which authorises companies to engage in financial activity and supervises local trading markets.
The Swiss Franc
The Swiss franc is the seventh most traded currency in the world. It is also present in one of the four major currency pairs – USD/CHF. This means competitive currency conversions.
Its popularity stems from it being seen as a safe haven currency that can be used to hedge against riskier investment strategies. The stability of the currency arises from the strength of the Swiss economy and its high GDP per capita, which is driven by its services sector. The demand for the Swiss franc also increased following the 2008 financial crisis, which led to Switzerland amassing significant foreign currency reserves.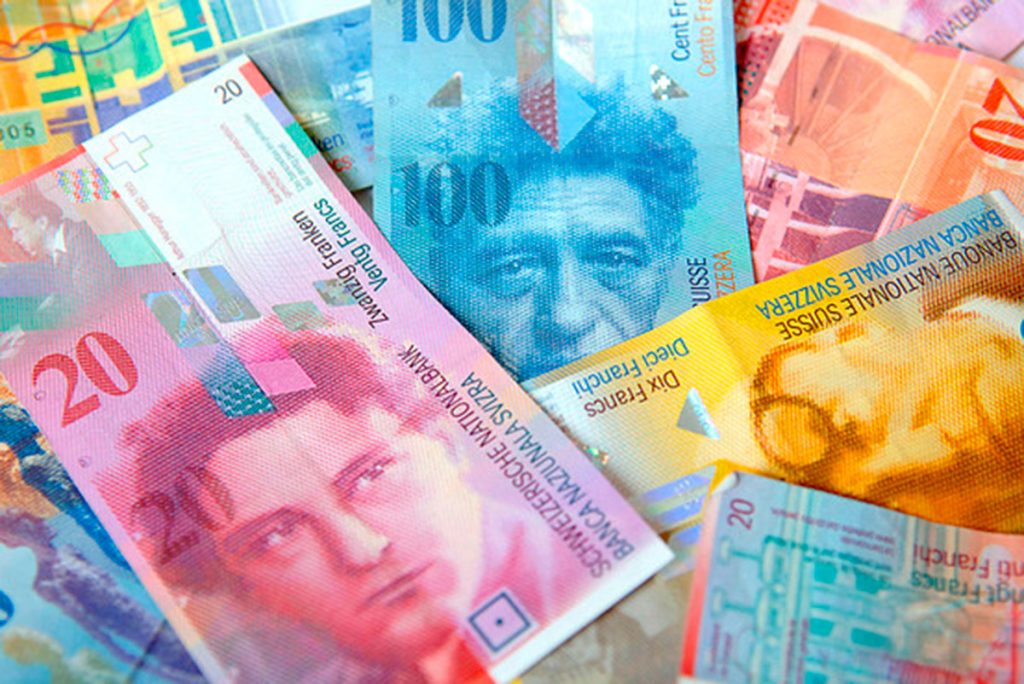 Benefits of Brokers With CHF Accounts
Advantages of CHF trading accounts include:
Conversion – for traders not in Switzerland or who do not hold CHF reserves, converting currencies to and from the Swiss franc is easy and relatively cheap due to high volumes
Stability – being a safe haven currency, the stability of the Swiss franc reduces the risk to traders who deposit this currency in their trading accounts. Currencies that fluctuate considerably result in traders' deposits and profits being put at risk
Accessibility – the Swiss franc is one of the most traded currencies in the world. Many investors globally, in addition to Swiss residents, hold the currency, meaning brokers with CHF accounts often offer low-cost deposit and withdrawal options
Regulation – as the Swiss franc is a trusted currency, traders can easily find CHF trading accounts that are regulated by a reputable body, for example, the Cyprus Securities and Exchange Commission (CySEC)
Checking Brokers Offer CHF Accounts
The first place to look is in the broker's accounts section. Brokers with CHF accounts like IC Markets list the base currencies they offer on this page. If there is no information there, most companies have telephone, email or live chat support. Another option is to look at the broker's terms and conditions page. Alternatively, the brand may list base currency options at the sign-up stage.
Remember that accepted currencies and base currencies are not the same. There may be brokers that accept CHF deposits but do not allow this as the base currency. As a result, you will likely pay a conversion charge.
Comparing Brokers With CHF Accounts
When comparing CHF brokers, consider the following aspects:
Fees – check commissions, spreads, deposit and withdrawal charges, overnight fees, currency conversion rates and any other charges
Platforms – most well-known brokers with CHF accounts use one or both of the MetaTrader platforms, which are arguably the best in the industry. MetaTrader 4 and MetaTrader 5 are both favorites with forex traders
Regulation – always use brokers regulated by a reputable body such as the CySEC or the Swiss FINMA. These organisations help dictate the level of consumer protection and also whether investor funds are insured, and to what amount, should the broker go bankrupt
Assets – brokers with CHF accounts may give traders a choice of forex, commodities, stocks, indices and cryptocurrencies. Some firms may focus on a smaller number of these or specialize in a particular type of financial instrument, such as CFDs or binary options
Bonuses – promotions or bonuses are sometimes offered to entice new traders. Always check the terms and conditions though – some regulators such as the CySEC have imposed restrictions on promotions due to unfair withdrawal requirements
Mobile apps – more investors these days want to trade and view their portfolio on the go. The best brokers offer free mobile trading applications on both iOS and Android
Customer support – it is reassuring to know that help is close by if needed. Many CHF brokers will have telephone, email or live chat support, usually in addition to FAQs
Bottom Line on Brokers With CHF Accounts
The Swiss franc is a safe haven currency meaning it is used by traders around the world. The top brokers with CHF accounts in 2023 are also popular because they remove the need for currency conversions and allow for straightforward account management. Among the top CHF brokers today are Pepperstone and IC Markets.
FAQ
What Is The Swiss Franc?
The Swiss franc is one of the most traded currencies in the world. Many investors and institutions recognize its stability, which is primarily a result of the robustness of the Swiss economy. Demand for the currency also tends to increase during periods of uncertainty, such as the 2008 financial crisis and the 2022 Russia-Ukraine war.
What Are Brokers With CHF Accounts?
Brokers with CHF accounts are those that allow the Swiss franc to be used as a base currency. This means trades, fees and statements are given in Swiss franc rather than another currency such as the US dollar.
Do All Brokers Have CHF Accounts?
No – some brokers only allow the base currency to be the US dollar or euro, for example. With that said, the top brokers with CHF accounts include Pepperstone and IC Markets.
Who Benefits Most From CHF Accounts?
Swiss residents and those who hold large volumes of the Swiss franc benefit from CHF accounts. They essentially allow investors to trade without incurring currency conversion fees.
Can Non-Swiss Residents Benefit From CHF Trading Accounts?
Although traders may incur currency conversion costs, investors might want to take advantage of the stability that the Swiss franc offers. Importantly, many traders prefer not to hold funds in a volatile currency.