Brokers With DKK Accounts
Brokers with DKK accounts allow traders to access Danish markets. Investors can also benefit from the pegged exchange rate of the Danish Krone with the Euro. This article will run through how DKK trading accounts work and list the top supporting brokers in 2023.
How DKK Accounts Work
Brokers with DKK accounts facilitate the use of the Danish Krone for making deposits, investments, trades and withdrawals. For this, your brokerage account's base currency is set to DKK. This means that any prices or fees such as bid-ask spreads and commission will be quoted in the Danish Krone. Importantly, you will likely pay conversion fees if you make a deposit using different fiat currencies such as USD or EUR.
DKK Currency Explained
Danish Krone is the legal tender in Denmark, Greenland and the Faroe Islands. It is issued and controlled by the Danmarks Nationalbank, the country's central bank.
Since 1973, Denmark has been a member country of the EU, however, it does not use the Euro. Danish Krone is pegged to the Euro with a fixed exchange rate band according to the ERM 2 agreement. This means that the DKK/EUR pair can only fluctuate 2.25% either side of the central rate, bringing stability.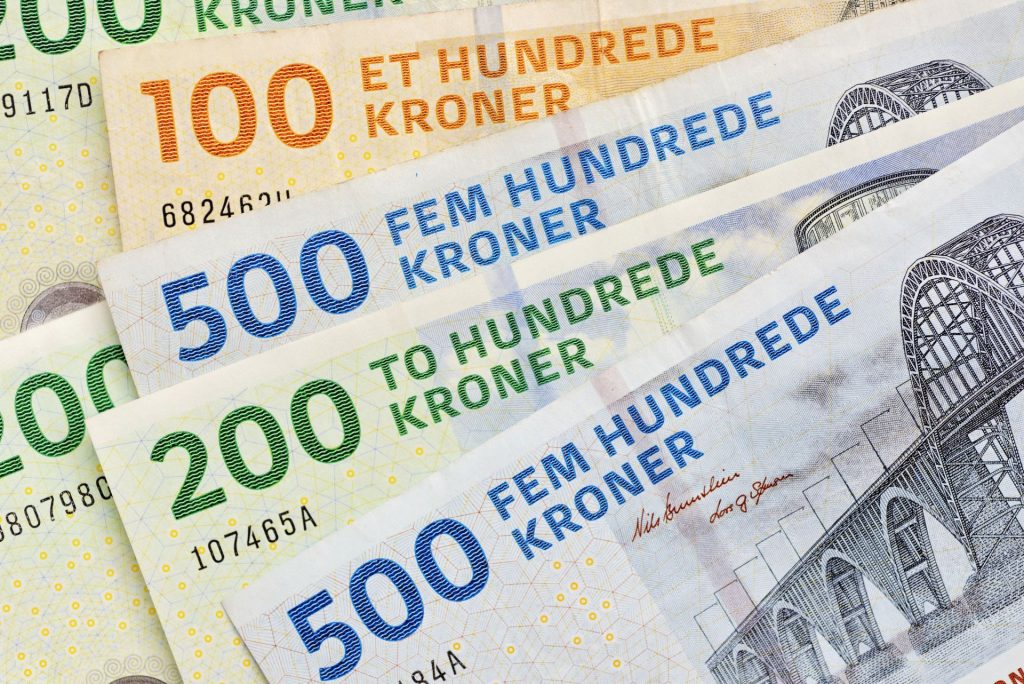 Benefits of Brokers With DKK Accounts
Brokers with DKK accounts are mainly beneficial for traders based in Denmark, Greenland and the Faroe Islands. With that said, there are advantages for international traders too:
Exchange Rate With The Euro – As the Danish Krone is pegged to the Euro within a small acceptable range, you can benefit from slight price fluctuations in DKK/EUR with relatively low risk.
Currency Conversions – Domestic traders avoid the time and fees taken to convert currency to a usable tender in a brokerage account. Essentially, traders can deposit funds quicker and at a lower cost.
Access To Danish Markets – One of the greatest benefits is the ability to invest and trade with assets listed on Danish stock exchanges. For example, Carlsberg, Ørsted and BankNordik are all listed on Nasdaq Copenhagen. FX traders can also speculate on DKK/NOK, USD/DKK and EUR/DKK.
Checking Brokers Offer DKK Accounts
Firstly, you should check the broker's website under the account funding section. This is likely where you will find information regarding the permitted base currencies and transfer methods. If, after searching the website you cannot find the answer, contact the support team.
Comparing Brokers With DKK Accounts
The following are some of the most important aspects to consider when choosing between DKK accounts:
Trading Platforms
The trading platform is where you will conduct technical analysis and execute your strategy. You should aim to choose a broker that adopts a trading platform with customizable alerts, charting options and indicators so that you can access as much market information as possible. Examples include the advanced MetaTrader 4 and MetaTrader 5 platforms.
It may also be worth finding a broker that allows you to practice with a demo account to learn the platform and test your strategy.
Markets
Before choosing a broker you should determine what instruments you want to trade, for example, DKK forex pairs or equities listed on the Nasdaq Copenhagen. It is also worth checking whether leveraged trading is available. This can increase your profit exposure in return for a small capital outlay.
Pricing
Brokers that offer DKK accounts should have a breakdown of associated fees. This can include any subscription costs for specific features, commissions, plus deposit or withdrawal charges. You will need to ensure you generate enough profit from your trading to cover overhead fees. Also check for any account inactivity penalties and rollover rates.
Deposits & Withdrawals
Consider which deposit and withdrawal solutions are available. Transfers from bank accounts often take one or two working days. Many brokers with DKK accounts also accept payments via Dankort, which is the national debit card. This is an important consideration because using a VISA or MasterCard in Denmark can incur additional charges.
Alternative payment methods include e-wallets such as Skrill or Neteller, which transfer payments almost immediately, but often impose a maximum transfer limit.
Regulation & Security
Regulated brokers tend to be more reliable and secure. Look for licensing from the Danish Financial Supervisory Authority (DFSA). Other popular regulators include the Cyprus Securities and Exchanges Commission (CySEC) and the UK Financial Conduct Authority (FCA). You may also want to prioritize brokers that adopt safety measures such as 2 Factor Authentication (2FA), providing an additional layer of security.
Customer Experience
Other factors to consider include the availability of the customer support team and any educational guides or training materials. The customer support team are responsible for solving any problems so finding a broker with live chat or phone hotline options is important. The best brokers that accept DKK accounts also have a comprehensive education portal which is perfect for beginners looking to pick up extra trading tips and tricks.
Note, you can also find reviews of individual firms on our website.
Bottom Line on Brokers With DKK Accounts
Brokers with a DKK account are a perfect way for investors based in Denmark, Greenland and the Faroe Islands to trade without the drawbacks of converting to the commonly used USD or EUR. Brokers that accept DKK are also ideal for international traders who wish to gain access to the Danish markets.
FAQ
Does Denmark Accept The Euro?
No – the Euro is not considered legal tender in Denmark. Even though Denmark is part of the EU, the Danish Krone is still used and supported by many of the top online brokers.
How Do I Open A DKK Account With A Broker?
Once you have chosen your desired broker and verified they accept DKK as a base currency, you can start the sign-up process. This will typically involve creating a profile, entering personal information such as identification details and then inputting your chosen payment method. Remember to state your desired base currency during registration.
What Methods Can I Use To Fund My DKK Brokerage Account?
Which payment solutions each broker accepts varies but you can expect bank wire transfers to be available. Alternatively, you can use a debit or credit card, for example, Dankort, MasterCard or VISA. Finally, you could use an e-wallet service such as PayPal, Neteller or Skrill.
Are There Any Drawbacks To Using A DKK Account?
A DKK account is primarily beneficial for domestic traders and international investors who wish to access Danish markets. If, as an international trader, you are not interested in the Danish Krone or local stocks, you could pay unnecessary conversion fees and limit yourself to specific brokers.
What Are The Best Brokers With DKK Accounts?
There is no definitive list of the best brokers that accept DKK as a base currency. This is because what makes one broker better than another is subjective so rankings vary between traders. To determine which provider is best for you, use our tips above to compare popular brands.