Brokers With EUR Accounts
Brokers with EUR accounts denominate trading activity in the second most traded currency. They offer access to international financial markets for millions of clients across Europe and the wider world. This guide explains how EUR trading accounts work as well as how to compare top brokerages.
How EUR Accounts Work
Simply put, brokers with EUR accounts offer trading accounts that deal exclusively in Euros. This means all financial transactions from charges to profits are distributed in EUR and any other currencies deposited are converted to the currency. Your account balance, bonuses and promotions, plus payment requirements will all be displayed in Euros.
As the second most traded currency behind the US Dollar, it is traded and used in most countries within the Eurozone. Many nations, including those in Africa, also peg their local currency to the Euro to stabilize the exchange rate.
Due to its leading role in forex and global trading markets, there are multiple brokers with EUR accounts in 2023. They are also usually strictly regulated, welcoming investors from various jurisdictions spanning new CFD traders and established FX investors.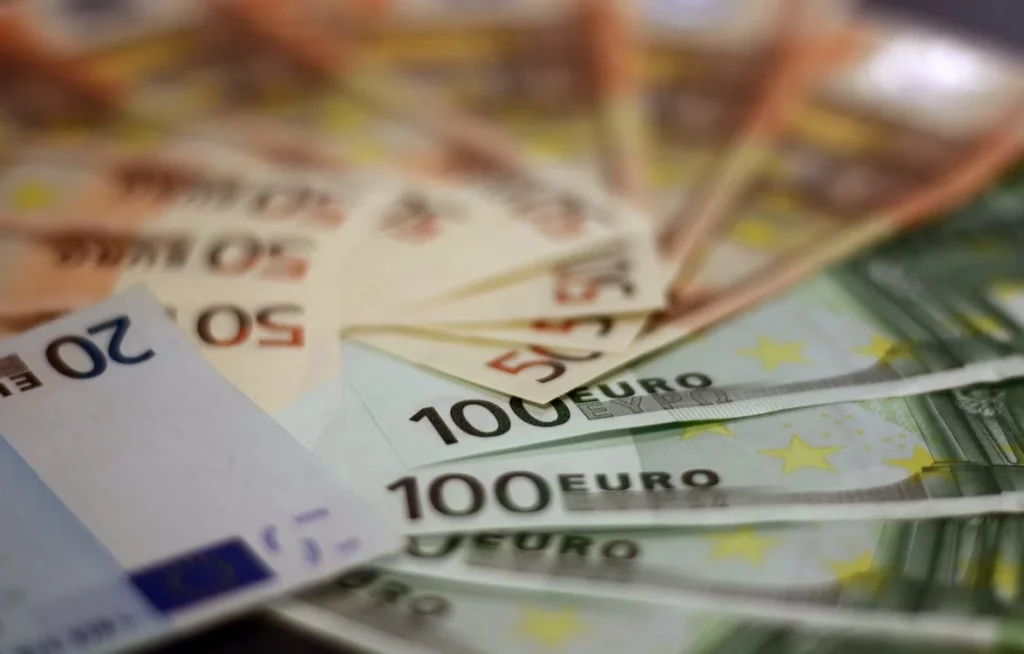 EUR Currency Explained
The Euro is the official currency of 19 of 27 member states of the European Union (EU), collectively named the Eurozone or Euro area. Despite being second to the US Dollar in size, in 2013 the Euro became the most used currency in the world, with nearly €920 billion in circulation. Today, more than 343 million EU citizens use the Euro as their local currency, among also territories of EU members, including Madeira.
The Euro was introduced in electronic form on the 1st of January 1999. In 2002, it became the legal tender of 12 member states which saw the largest currency conversion in history. The Euro was a major step in European integration as it united European countries under a common currency, which has since allowed for seamless trading across the EU aided by online merchants and businesses.
Benefits of Brokers With EUR Accounts
Local Advantages
For traders in Europe, EUR brokers let them deposit, withdraw and manage their account and trading activity in their local currency. This provides huge benefits as users can dodge conversion charges and easily deposit and withdraw via local options, such as wire transfer, Mastercard and PayPal.
Regulations & Safeguarding
Brokers with EUR trading accounts are often regulated to protect traders from erratic market conditions and untrustworthy companies. For example, the best EUR brokers hold a license with the Cyprus Securities & Exchange Commission (CySEC).
The EU's chief financial watchdog requires licensees to follow several safety measures, including providing negative balance protection, listing losing trader statistics on their website and limiting leverage ratios for retail investors.
Convenience
EUR accounts often provide reliable customer care with 24/7 support. Multilingual customer service representatives can help new traders with account queries, remedy technical issues and advise on new promotions. Many of the top deposit and withdrawal options also operate seamlessly with Euro transactions.
Checking Brokers Offer EUR Accounts
On a prospective provider's website, check the accounts section or FAQs which should specify their base currencies. You can also enquire through customer support channels – simply ask if EUR accounts are offered. Most teams are usually quick to respond through live chat, email or phone calls. Another good way to check if brokers offer EUR accounts is through their local payment solutions. This is a typical indicator that multiple base currencies are used to accommodate international clients.
Comparing Brokers With EUR Accounts
It is important to compare EUR brokers to ensure all your needs as a trader will be met.
First, you should consider the commissions and fees being charged. These can vary between brokers from flat charges to floating market spreads. Likewise, check the minimum deposit required so you can select a broker that aligns with your budget. Low-cost brokers are preferable for beginners.
Second, investigate the trading platforms offered by each brokerage. Some offer more specialized features, such as copy trading, which means it's worth researching the different tools before signing up for a live account. MetaTrader 4 is the most popular option among beginner traders.
You should also look into the available funding methods to find a solution that you are already familiar with, for example, PayPal. Another element to consider is the assets offered by each brokerage. Are you a trader of bonds or individual stocks on European exchanges like the CAC or DAX? Active forex traders may also want to check that access to the EUR/USD, EUR/GBP and EUR/JPY pairs are offered.
Additional considerations should focus on the licenses held by EUR brokers, any benefits such as bonuses, and the ease of use, with many firms providing fast, mobile-based platforms.
Bottom Line on Brokers With EUR Accounts
Brokers with EUR accounts offer an affordable path to trade key financial markets without currency conversion charges. Supporting brokerages essentially help facilitate regulated online trading with seamless access to European stocks, popular currency pairs and emerging assets like cryptos. The top brokers that accept EUR accounts in 2023 include Pepperstone, CMC Markets and FXCC.
FAQ
Can I Deposit Capital In Other Currencies To My EUR Account?
Yes – brokers with EUR accounts normally allow capital in alternative currencies to be deposited. However, there may be a conversion charge, either displayed as a one-off fee or a percentage of the transfer amount.
What Are The Best Brokers That Accept EUR Accounts?
How Do I Open A EUR Account?
Regulated trading brokers require you to verify your identity, for example, providing a photo ID, as well as your contact details before opening a live account. These customer checks are in line with CySEC licensing conditions to prevent Anti-Money Laundering.
Are Brokers With EUR Accounts Safe For Trading?
The top EUR brokers are often regulated by reliable agencies, such as the CySEC and FCA. With that said, trading is still risky and investors should have a sensible money management system in place.
How Old Do I Have To Be To Open A EUR Account?
Brokers with EUR accounts normally only accept clients over the age of 18. This is standard practice at online brokers across the globe.