Brokers With ZAR Accounts
Brokers with ZAR accounts allow investors to deposit, withdraw and trade using the South African Rand. Today, many forex and ECN brokers offer ZAR accounts with competitive trading conditions. This article breaks down how ZAR brokers work, alongside their benefits for South African traders.
How ZAR Accounts Work
ZAR accounts are ideal for swing traders from South Africa as well as nearby countries. The base currency is denominated in the South African Rand. As a result, all statements regarding profits, losses and payments are listed in Rand, meaning you don't have to run extra calculations to determine returns in your local currency. Importantly, deposits and withdrawals made in ZAR will not be subject to additional currency conversion charges, though if you deposit in another currency, like USD, there may be a fee.
The best online brokers accept a range of payment methods that support the Rand. In many cases, there are no additional charges associated with these methods. The top brands also tend to be regulated by a trusted local authority, such as the Financial Sector Conduct Authority (FSCA).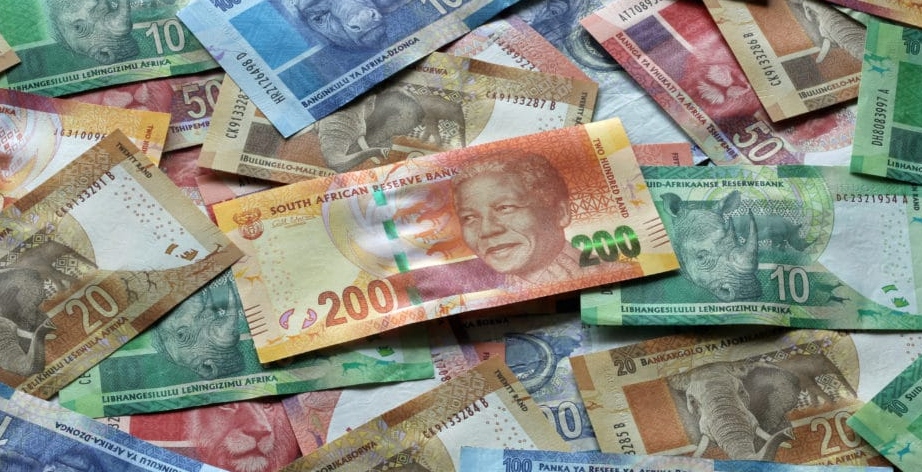 ZAR Currency Explained
The South African rand (ZAR) is the official currency of the Republic of South Africa. The ZAR is also recognised as legal tender in the Common Monetary Area of Lesotho, Namibia and Eswatini.
The South African Rand was first introduced in 1961 when the country became a republic. Before that, South Africa used its own version of the Pound during its time as a British colony. In the following decade or so, the Rand remained stable, but this changed in 1982. Increasing political pressure against the South African apartheid weakened the currency's value. This continued for years and by 1988, the ZAR had depreciated to 8 Rands to 1 Pound, compared to the 2 to 1 rate it had started at. At several points, forex activities had to be suspended to prevent further devaluation.
Since 2006, the ZAR has recovered and steadily risen, though it still struggles to maintain its value versus other currencies.
Pros of Brokers With ZAR Accounts
The main benefits of ZAR trading accounts include:
Minimum deposits: Brokers with ZAR accounts often have lower minimum deposit requirements. This makes them more accessible for beginners.
Deposits and withdrawals: ZAR brokers often accept payment methods compatible with the Rand. These solutions can be fee-free and facilitate fast payments, providing prompt access to the financial markets.
Fewer conversions: Investors shouldn't have to pay currency conversion charges like you would if you were to make a payment in Euros. Over time, this can help protect profit margins.
Access to markets: ZAR trading platforms often provide access to equities on the Johannesburg Stock Exchange, plus popular forex pairs with the ZAR, such as the USD/ZAR, EUR/ZAR and GBP/ZAR. The best firms also offer trading in major US, European and Asian markets.
Tight regulation: Brokers with ZAR accounts usually rely on the support of South African banks. As a result, they tend to hold licenses with the country's Financial Sector Conduct Authority (FSCA). Regulated firms provide local traders with a degree of trust and offer resolution options should the broker go bankrupt, for example.
Checking Brokers Offer ZAR Accounts
If you are struggling to identify a ZAR account, use these tips…
The account section on a broker's website is a sensible place to start. Ideally, they should explain the different account types and base currencies. The sign-up section should also list the available options. Another way is to see if the firm accepts local payment solutions, such as PayFast. Finally, you can contact the broker's customer support team to ask the question directly.
Comparing Brokers With ZAR Accounts
Consider the following factors when choosing a ZAR trading account:
Bottom Line on ZAR Trading Accounts
Brokers with ZAR accounts are perfect for residents of South Africa and neighbouring countries. These online investing solutions can save traders money when depositing, withdrawing and executing positions in the Rand – avoiding currency conversion fees. Use our comparison points above to find the best brokers in 2023.
FAQ
What Is A ZAR Account?
A ZAR account uses the South African Rand as the base currency. All trading activity, deposits and withdrawals are made in the currency, making it easier to invest and manage your portfolio.
Why Should I Open A ZAR Account?
There are several benefits to ZAR trading accounts. They reduce conversion fees, offer access to South African trading markets, and tend to be regulated by the Financial Sector Conduct Authority (FSCA).
Who Is The Best ZAR Broker?
Each trader has different requirements and priorities, so there is no single best provider. Instead, use our pointers above to compare the different options.
Do I Need To Be In South Africa To Open A ZAR Account?
No – you do not need to live in South Africa to open a ZAR trading account. Most investors that wish to hold and manage their portfolio in the Rand can open a ZAR account. Simply check opening conditions before registering for a live account.
How Do I Check If A Broker Offers A ZAR Account?
Brokers with ZAR accounts usually state their currency offerings at the sign-up stage. If it is not visible, contact the customer support team.