Brokers With GBP Accounts
Brokers with GBP accounts offer online trading services in the Great British Pound. Popular with UK-based investors, they make it easy to manage trading and account activity without currency conversion fees. This article explains how GBP trading accounts work and lists the best supporting brokers in 2023.
How GBP Accounts Work
If your base currency is set to GBP, you can view your account balance, commission fees, overnight charges, and all other trading costs in the British Pound. Deposit and withdrawal requirements will also be displayed in GBP. For UK traders in particular, this makes it easy to track investing activity while avoiding paying conversion fees.
Brokers with GBP trading accounts are also more likely to be regulated by the UK Financial Conduct Authority (FCA), providing additional safety measures to local traders, including negative balance protection, leverage limited to 1:30, plus segregated client accounts.
Importantly, all statements, profits, losses and funds will be converted into GBP. So if you deposit to a GBP account in EUR, the amount will be converted into GBP at the current exchange rate, along with any additional fees charged by your broker or payment provider.
Whilst brokers with GBP accounts are particularly popular with traders based in the UK, global investors that trade large quantities of the British Pound Sterling may also opt for this type of account.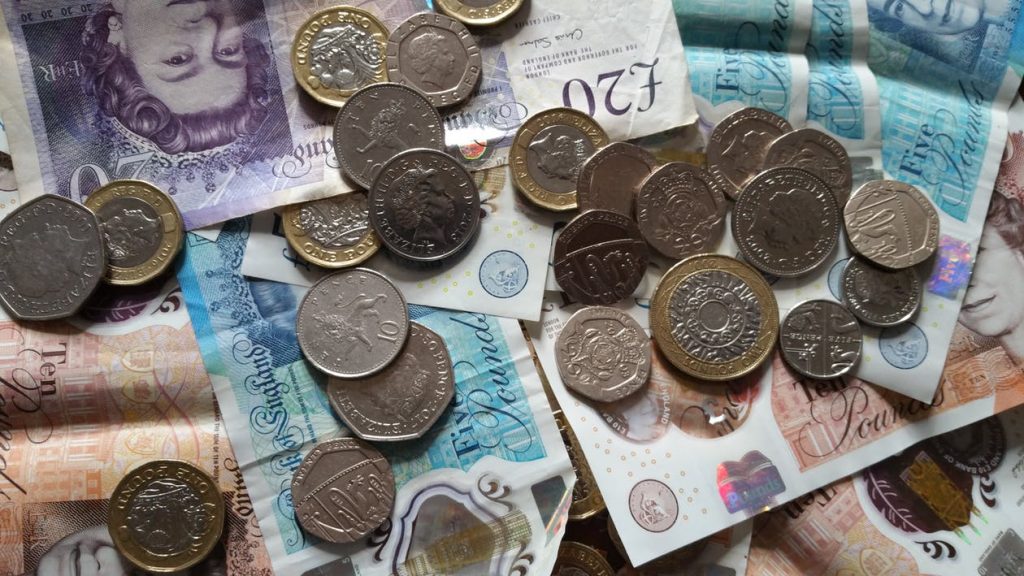 GBP Currency Explained
The Great British Pound (GBP), sometimes referred to as the Pound Sterling, is the official currency of the United Kingdom (UK). It is also the currency of several of its remaining territories, including Jersey, Guernsey and Gibraltar.
The GBP is the oldest currency in continuous use, having been adopted circa. 800, though the first Pound coin did not appear until 1489, and it was not until the creation of the Bank of England in 1694 that notes started circulating.
To this day, the Pound Sterling remains incredibly popular. In fact, it is the fourth most traded currency in the foreign exchange market. As a result, there are many brokers with GBP accounts, including Pepperstone and XTB.
Benefits of Brokers With GBP Accounts
Key advantages of signing up for a GBP trading account include:
Transaction times: GBP accounts are quick to fund. A wide range of payment methods, including PayPal, Visa and Mastercard, support GBP funding with instant processing at many top brokers
Fees: Deposit and withdrawal solutions that support GBP payments typically process transactions free of charge. This helps create a low-cost trading environment for investors
Conversions: GBP is the fourth most-traded currency. Anyone looking to trade pairs such as the USD/GBP, EUR/GBP, CAD/GBP and JPY/GBP through brokers with British Pound accounts will not typically have to pay conversion rates
Market access: Customers can access a wide range of markets through GBP accounts, including stocks on the FTSE, cryptos like Bitcoin, plus major, minor and exotic currency pairs
Regulation: The best brokers with GBP accounts often hold a license with the Financial Conduct Authority (FCA) – the UK's top financial regulator. The FCA holds brokers to a high standard, with multiple protections in place for swing traders
Checking Brokers Offer GBP Accounts
Many online brokers state which base currencies are accepted in the accounts section of their website. Others list it at the sign-up stage. Another good indicator is whether they accept local payment solutions. If it is still unclear, you can reach out to the firm's customer support team via email, live chat or telephone.
Comparing Brokers With GBP Accounts
Use these points to help compare the various brokers offering GBP trading accounts:
Fees: Ensure fees for deposits, withdrawals and trading are reasonable. Swing traders should also take account of any overnight or rollover charges. IG, for example, is known for having tight spreads and a transparent pricing structure.
Platforms: Ensure the broker supports a platform that you are comfortable using. This could be MT4, MT5, or a bespoke platform. A free demo account is a good way to test the desktop terminal before investing cash.
Regulation: Check that the brokerage is regulated by a trusted authority. Most brokers with GBP accounts, including CMC Markets, are regulated by the Financial Conduct Authority.
Assets: Online brokers offer various financial products and assets. Forex, stocks and CFDs are popular at the best brands. Also check if leveraged trading opportunities are available, though the FCA typically caps leverage to 1:30 for retail investors. For traders interested in trading GBP pairs, FXOpen is a good choice.
Bonuses: Some brokers may offer sign-up bonuses when you join. These can give you a cash boost at the start of your trading career. Search around to find the best promotions, though bear in mind that the FCA increasingly limits promotions.
Mobile app: Some companies provide a bespoke trading app, while others use applications developed by MetaTrader and other independent groups. Check that the app is free to download and available on either iOS or Android.
Demo account: A demo account is a perfect place to practise trading GBP forex pairs and UK stocks. Paper trading accounts let you trade live markets with virtual currency and no risk. Many GBP brokers offer a demo solution, including Plus500.
Bottom Line on GBP Trading Accounts
Brokers with GBP accounts are popular for good reason. The Pound Sterling is the fourth most-traded currency in the world. As a result, GBP trading accounts provide seamless access to forex markets. They also offer competitive trading conditions and fee-free deposits and withdrawals for UK-based traders. See our list of the best brokers with GBP accounts to start trading today.
FAQ
What Is A GBP Trading Account?
Brokers with GBP accounts offer the Pound Sterling as the base currency. This means that all fees, deposits, withdrawals and transactions are denominated in the Great British Pound.
Which Is The Best Broker With A GBP Account?
There is no simple answer as to who is the best GBP broker. Use our comparison points above to find a suitable option. Alternatively, see one of our top picks: CMC Markets and Plus500.
Do I Have To Be In The UK To Open A GBP Account?
No, you do not have to be based in the United Kingdom. Most brokers with GBP accounts accept residents of other countries due to the currency's international popularity.
Can I Change My Selected Base Currency At Online Brokers?
Some brokers may allow you to change your base currency after you set it, but it is not common practice. In fact, it can be difficult at some brokers, so choose wisely at the start.
Are GBP Accounts Safe?
GBP accounts at brokers regulated by the UK's FCA are arguably safer than offshore and unlicensed providers. With that said, swing trading is still risky so don't risk more than you can afford to lose.