Brokers With NOK Accounts
Brokers with NOK accounts allow traders to manage their portfolios in Norwegian Krone. The best brands also offer access to local markets and forex trading on NOK – one of the world's most stable currencies. This article reviews the top brokers with NOK accounts, explaining how they work, their advantages and how to choose between providers.
How NOK Accounts Work
A NOK account facilitates depositing, holding and withdrawing trading funds using Norwegian Krone. With NOK selected as your base currency, you do not need to pay exchange fees to convert your deposits into Norwegian Krone. Your broker might still permit you to deposit in other currencies, but you may have to pay a conversion fee. Bid-ask spreads, account fees and other broker charges will all be quoted in NOK.
The Norwegian Krone is one of the most stable currencies in the world. Its strength is owed to Norway being a prominent exporter of oil in Europe, linking the price of oil with the value of NOK.
Demonstrating the stability of the Norwegian economy and its currency, NOK was previously the gold standard among Scandinavian countries. Controlled and issued by the central bank of Norway, the Norges Bank, NOK is the 14th most traded currency in the world.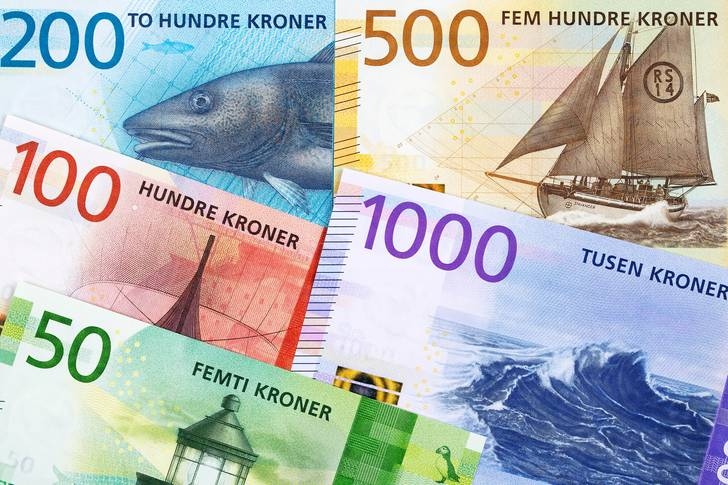 Benefits of Brokers With NOK Accounts
There are several advantages to signing up with a broker that offers NOK trading accounts:
Access to Norwegian Markets: Using a broker that offers a NOK account means you can often invest in companies traded in Norwegian markets, such as those listed on the Oslo Stock Exchange. Examples include Kongsberg and Norwegian Air.
Avoid conversion charges: Norwegian-based traders are able to avoid paying currency conversion fees that would be charged using non-NOK accounts. For example, converting NOK into EUR or USD.
High-speed transfers: Deposits and withdrawals via bank transfers for domestic traders are fast with NOK accounts. You can expect transfers to be processed in two or fewer working days as converting currency is not required. Transfers for non-NOK deposits and withdrawals can take up to a week.
Stable currency: The stable Norwegian economy means your NOK funds are likely to maintain a similar purchasing power.
Checking Brokers Offer NOK Accounts
To check that brokers accept NOK you should look at their main website. There will likely be a tab regarding account information where you can see deposit and withdrawal methods and accepted currencies. Alternatively, information could be found under the FAQ section.
Note, if you cannot find anywhere on the website that details the accepted currencies, contact the support team.
Comparing Brokers With NOK Accounts
There are many brokers that offer NOK accounts in 2023 to choose from. Use our guide to find the best providers:
Regulation & Security
It is worth opening an account with a regulated broker. You can look for brands licensed by the Finanstilsynet (FSA), which is the financial regulator of Norway. Other prominent financial watchdogs include the Cyprus Securities and Exchange Commission (CySEC).
Regulatory oversight brings a level of trust, alongside measures designed to protect retail traders, such as negative balance protection, Know Your Customer (KYC) checks and the separation of client and brokerage funds. Check for NOK brokers that offer two-factor authentication for additional account security.
Deposits & Withdrawals
Verify that a broker uses suitable methods for transferring funds between your bank account and brokerage account. Usually, brokers facilitate wire transfers, which can take a couple of days. Transfers using e-wallets such as PayPal are even faster.
You should also consider any associated fees for using each method and any upper and lower limits imposed on deposits and withdrawals using NOK.
Markets
When searching for a broker, you should first determine what instruments and markets you wish to trade. Do you want to trade Norwegian stocks and shares, for example? Or are you interested in trading forex pairs that include the NOK, such as USD/NOK or EUR/NOK?
Customer Support
Find a broker with an accessible support team. The top online platforms have a reliable customer service team available by phone, email, live chat and social media accounts such as Facebook and Twitter.
Local traders may also want to open an account with a broker that has multi-lingual support, including Norwegian.
Pricing
Charges such as transaction fees, subscription fees and spreads impact profits. Also be wary of brokers with NOK accounts offering commission-free trading as they will typically have wider spreads and may charge for additional services, including payments and specific trading tools.
Trading Platforms
The trading platform available will greatly impact your investing experience. You could choose a broker that offers one of the world-leading platforms such as cTrader, MetaTrader 4 or MetaTrader 5.
The online platform is where you will conduct technical analysis of assets using indicators, alerts and charting options. It will also host any news feeds for fundamental traders and provide account management capabilities.
Additional Features
Additional features such as a paper account for demo trading and educational guides can also boost your investing experience and knowledge. These are great ways to hone your trading skills and prepare you for trading with real capital. The top NOK brokers offer extra tools and features for free.
Bottom Line on Brokers With NOK Accounts
Brokers with NOK accounts are attractive to aspiring forex traders and investors based in Norway. Traders interested in investing in Norwegian companies and assets may also want access to the Oslo Stock Exchange. Among the best NOK brokers in 2023 is Skilling.
FAQ
What Are The Best Brokers With NOK Accounts?
What makes one NOK broker better than another is entirely dependent on your preferences and trading needs. For example, if you like one trading platform, such as cTrader, over the MetaTrader suite. For more information, see our broker reviews.
What Regulators License Brokers With NOK Accounts?
Look for brokers regulated by the Norwegian financial regulator – Finanstilsynet. Other regulators include the CySEC of Cyprus, the BaFin in Germany, as well as the European Securities and Markets Authority (ESMA).
Can I Use Automated Trading With NOK Accounts?
Many brokers with NOK accounts have platforms that offer automated trading robots. Bots are useful for executing strategies according to pre-determined commands. These trades can then be executed at all times of the day.
What Methods Can I Use For Depositing Funds In NOK?
The most common method of depositing NOK into your brokerage account is through bank transfer, which usually takes one or two working days. Some brokers also accept payments with debit and credit cards. In addition, platforms have started accepting deposits via e-wallets such as PayPal, Neteller and Skrill, which are often processed instantly.
Is The Euro Used In Norway?
No, the Euro is not legal tender in Norway. Even though Norway is part of the European Economic Area, it is not a member of the European Union and so does not use the Euro. Most local traders operate with Norwegian Krone (NOK).